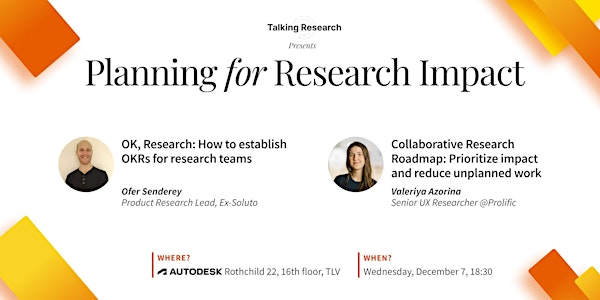 Planning for Research Impact [online]
How can we make sure that we're working on impactful projects, and how can we measure it? Join our next meetup to learn all about it!
About this event
Join us for our second meetup that is all about UX Research! Meet fellow researchers and people who do research, and hear from two speakers about planning for research impact.
The meetup will be in English.
Click here to register for in person event in Autodesk office in TLV.
----
Agenda:
19:00 - OK, Research: How to establish objectives and key results for research teams by Ofer Senderey, Product Research Lead, Ex-Soluto
Research teams constantly need to prioritize efforts and resources and showcase their impact on the business. Without a north star, we end up using our gut feeling to decide how to invest our time and resources. That north star is OKRs—objectives and key results. In this talk, Ofer will go over how you can build an OKR framework that fits cross-functional teams, what processes and ceremonies are needed to make it effective, and how it improved our research work in Soluto.
19:30 - Collaborative Research Roadmap: Prioritize impact and reduce unplanned work by Valeriya Azorina, Sr. UX Researcher at Prolific
UX researchers often work across multiple product teams and are involved with those teams at different stages of the product delivery cycle. With multiple research projects going on at the same time and all the stakeholders needing results yesterday, it can be hard to invest into high impact and more strategic research. In this talk Valeriya will share how she navigates this challenge by creating a quarterly research roadmap through a collaborative workshop and impact-based prioritization
20:00 - Q&A panel
See you there!