Actions and Detail Panel
Planning for Better Stormwater Management
Wed, March 8, 2017, 9:30 AM – 2:00 PM EST
Description
Join ARC and the Metro Water District for a one day workshop to learn about stormwater management topics you may have missed in planning school. We'll walk through the regulatory landscape of stormwater and discuss tools and best practices, including green infrastructure and low impact development, for managing stormwater. We'll also discuss the role the planning community can play in better managing our stormwater.
Through a mix of presentation, discussion and hands-on activities you'll gain a better understanding for stormwater management and how it fits into the larger planning picture. Lunch and light breakfast items provided. AICP and other credits available.
All Planning Department and Stormwater/Watershed Department staff are invited to attend.

Time: 9:30 Coffee and Networking | 10:00 AM to 2:00 PM program
Price: $25
Food: Light breakfast items and lunch will be provided
For more information, contact tap@northgeorgiawater.com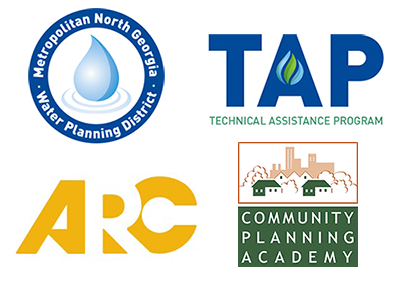 Date and Time
Location
Loudermilk Center / Atlanta Regional Commission
40 Courtland Street
Atlanta, GA 30303