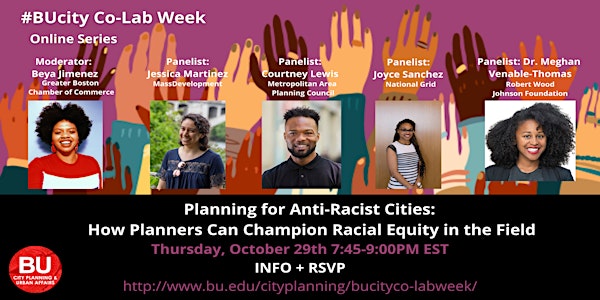 Planning for Anti-Racist Cities: How Planners Can Champion Racial Equity
Join leaders in the planning industry for a discussion on shaping anti-racist cities. This event is in accordance to #BUcity Co-Lab Week.
When and where
Location
City Planning and Urban Affairs - Online Event 1010 Commonwealth Avenue Boston, MA 02215
About this event
Join Boston University City Planning and Urban Affairs for Planning for Anti-Racist Cities: How Planners Can Champion Racial Equity in the Field, the eighth event in the #BUcity Co-Lab Week.
Planners and professionals in the planning industry play a key role in helping shape our cities, their policies and how they choose to stand up for racial equity. How can planners adapt a racial equity lens for their profession? What role does academia play in preparing planners in helping create anti-racist cities? Join us for this conversation with leaders in the planning field.
Panelists:
Jessica Martinez, MassDevelopment, Transformative Development Initiative Fellow
Jess Martinez is an urban strategist passionate about supporting local creatives and small business growth, expanding BIPOC and female representation in real estate, and promoting active mobility transportation. She is currently based in the Merrimack Valley and works as the MassDevelopment TDI Fellow in Lawrence. As a Fellow, Jess works to develop regional, state, federal, and public-private partnerships, support downtown revitalization initiatives and public realm improvements, and engage with community organizations, residents, property owners, entrepreneurs, and private businesses. Jess was born and raised in Los Angeles, CA and holds a bachelor's in History & Jewish Studies from the University of California, Los Angeles and a master's in Urban Planning from Boston University.
Joyce Sanchez, National Grid, Senior Specialist
Joyce Sanchez is an experienced coordinator who has worked in the civic, social, and non-profit industry. She is passionate about grassroots organizing, media relations, leadership, mentorship, writing, and social media. Joyce is now a Senior Specialist and subject matter expert for stakeholder and community relations for multimillion-dollar complex construction projects with National Grid, one of the world's largest utilities focused on transmission and distribution of electricity and gas. Joyce received a Bachelor of Arts in Political Science and Government form Georgie Southern University, and a Master of Urban Affairs with Boston University
Courtney Lewis, Metropolitan Area Planning Council, Regional Land Use Planner II
Courtney Lewis is a Regional Land Use Planner with MAPC. As a member of the Land Use Division he has worked on a wide variety of planning projects with local communities including municipal master plans and open space and recreation plans. He has also been involved in planning projects that advance green infrastructure and resiliency solutions, and has prepared graphics and GIS mapping of land use, zoning, environmental, park, recreation and open space plans for several communities across the MAPC region. Courtney earned a dual master's degree: a Master of Landscape Architecture (MLA) and a Master of Community Planning (MCP) from Auburn University's College of Architecture, Design and Construction (CADC). He also received a Bachelor of Science in Environmental Design from Auburn, completed coursework at Temple University's Real Estate Institute, and completed an Urban Design fellowship with the Remaking Cities Institute at Carnegie Mellon University.
Dr. Meghan Venable-Thomas, Robert Wood Johnson Foundation, Culture of Health Leaders Fellow; Cultural Resilience Program Director, National Initiatives
Dr. Meghan Venable-Thomas is the Cultural Resilience Program Director at Enterprise Community Partners supporting community development organizations across the country in integrating cultural and healing centered approaches for increased equitable development. She graduated with her Doctorate in Public Health from Harvard University, focusing on health equity, community based participatory research, and tools for advancing healing justice. With over 10 years of military experience developing and implementing strategies, building programs, and leading teams, she is now focusing on ways to improve health disparities in the United States and abroad. She maintains her military service as a Major in the Massachusetts Army National Guard providing Sexual Assault Prevention Coordination, directing programs, training, and victim advocacy around Sexual Assault prevention. Meghan is also an instructor and Project Manager at TRILLFIT® spearheading the development of TRILLFITs Pledge for Racial Justice, Anti-Racism and Equality in the Wellness Industry. She leverages her varied experiences to support healthy, thriving communities. Meghan has worked for companies such as Memorial Sloan Kettering Cancer Center, Columbia Innovation Lab, the Atlanta Beltline Partnership, and The Just City Lab. Meghan holds a master's degree in Public Health Management from Columbia University and a bachelor's degree from the United States Military Academy (USMA).
Moderated by:
Beya Jimenez, Director of Economic Opportunity, Greater Boston Chamber of Commerce
Beya Jimenez serves as the Director of Economic Opportunity at the Greater Boston Chamber of Commerce where she leads work in economic access and equity for the business community of the greater Boston region. She holds a Master in Urban Affairs from Boston University where her focus was housing and economic development. Beya is also a local writer on issues related to housing and racial justice. Her work can be found in The Boston Globe, Banker & Tradesmen, The Bay State Banner, DigBoston and TravelNoire among a few others. Most recently, her op-ed in the Boston Globe "If you support Black Lives Matter, You must Support Housing for All" garnered support from elected officials such as Congresswoman Ayanna Pressley and Alexandra Ocasio-Cortez. She serves on the Board of Lawrence Community Works and on the Advocacy Committee at YW Boston. In 2018, Beya led the charge for the YIMBYTown conference in Boston and helped frame an equity agenda to better support the pro-housing conversation to include more diverse voices. She is now the Vice President of the newly formed Abundant Housing MA, an umbrella agency hoping to expand the landscape of pro-housing groups throughout the Commonwealth of MA. In addition to her pro-housing work, Beya is a member of the Planners of Color, a network of planners serving under the LivableStreets Alliance working to address racial equity in the field of planning and community development.
Zoom link will be emailed after registrants RSVP.