Event Information
Refund Policy
Refunds up to 1 day before event
Description
Meetings are essential in the life of any organization. They bring together people's diverse skills & experiences and can deliver amazing results. But mismanaged, they eat into precious time and fail to generate benefit.
Join us as we train facilitators how to effectively plan and conduct meetings.

Location: University of Lousiana at Monroe (ULM)
Small Business Conference Room / Training Center
Stubbs Hall RM 117

Cost: $299/student
Duration: 2 Days
Time: 9:00am - 5:00pm

Course Description

This course will outline the role of a facilitator and describe how to plan and execute meetings that deliver results. Topics covered include, but are not limited to, planning a productive meeting, conducting effective meetings, using proper tools and techniques, and the do's and don'ts of facilitating teleconferences, video conferences, and webinars.

Course Objective

The course will focus on elements such as:
- The critical importance of planning & preparation
- The key elements found in a good meeting plan
- Structuring the agenda and the meeting to optimize time & contributions
- The role of the facilitator and the skills relevant to have effective meetings
- Encouraging productive conversations and dealing with negative behavior
- The important document & record management
- How to ensure the follow-up and implementation of decisions made
- Removing obstacles to success
Target Student
This course is designed for person(s) who's career objective involves them planning and facilitating meetings regularly. Whether your skill level is novice or expert where you require a refresher, this course is guaranteed to have you walking away with some handy tools in your possession at the conclusion of the course.

Attendees will receive the following:
- Course Book: Introduction to Planning & Facilitating Effective Meetings
- Course workbook
- Refreshments served (Each student is responsible for acquiring their own lunch)

Delivery Method
Instructor led, group-paced, classroom-delivery learning model with structured hands-on activities.




Instructor: Ieshea Jones, PMP®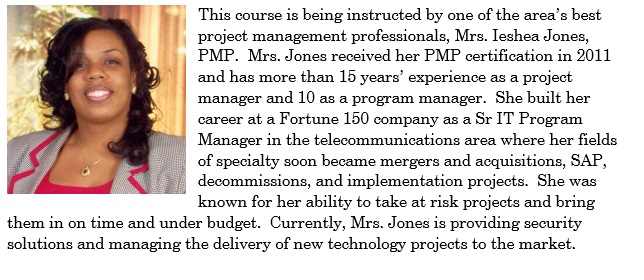 Course Details:
When: Monday, November 13, 2017 - Tuesday, November 14, 2017
Where: University of Louisiana at Monroe (ULM) Stubbs Hall RM 117
Format: 2-day in-person training
Earn: 16 PDUs
Available Seating: 25
Standard Fee: $299 until 2 weeks before course start date; late registration is at the discression of the instructor and an additional fee will be assessed for those who register late
Discounts available for groups - call for details.
Hurry, our seats fill fast. Guarantee your enrollment by paying your tuition today. You will receive a confirmation once your registration is complete. Payment is due before the program.

Program Schedule
Check-in: 8:30 a.m. – 9:00 a.m.
Program: 9:00 a.m. – 4:00 p.m.
Cancellations and Substitutions
You may cancel your registration up to 10 business days before the program, and we will refund your tuition less a nominal cancellation fee. Substitutions and transfers may be made at any time to another program of your choice scheduled within 12 months of your original event. Please note, if you do not cancel and do not attend, you are still responsible for payment.
Cancellation Policy: Refunds for this event will be given to attendees who email a cancellation request to training@direnzic.com at least 72 hours prior to the start of the event. Please note, if you do not cancel and do not attend, you are still responsible for payment.

Please Note
• You will be notified by email, fax and/or mail if any changes are made to your scheduled program (i.e., date, venue, city or cancellation).
• Walk-in registrations not accepted for this course.
• Please, no audio or video recording allowed.
• Lunch expenses are not included.
• Dressing in layers is recommended due to room temperature variations.
• You will receive a Certificate of Completion at the end of the program.
Let us show you how to get THE BEST results from your meetings!
Join us for this scheduled course OR contact us to arrange a private session.
CALL (318) 599-9871 | EMAIL Contact@direnzic.com
Date and Time
Location
ULM Small Business Conference Room
700 University Ave Stubbs Hall Suite 117
Monroe, LA 71209
Refund Policy
Refunds up to 1 day before event