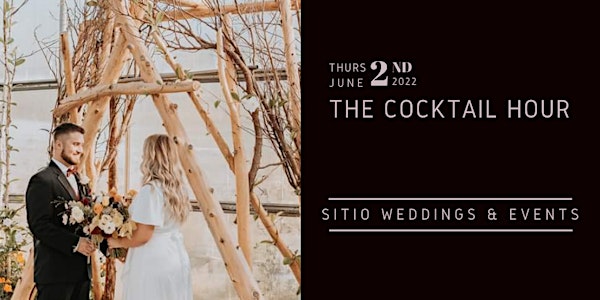 Planning Ever After - The Cocktail Party
Spice up your next celebration with a Cocktail Hour! The time before the main event to relax, socialize and whet one's appetite.
When and where
Location
Sitio Events 159 North Cloquet Road East Esko, MN 55733
About this event
Spice up your next celebration by adding a Cocktail Hour! The Cocktail Hour is that breather before dinner to relax and whet one's appetite for the remainder of the festivities. It can be as intimate as a wedding social, or as big as the beginning of a corporate banquet or fundraiser. It is a time to unwind, refresh the mind and ready oneself for the evening ahead. Enjoy some of our classic cocktail hour must-haves, plus a few extra ways to WOW your guests.
Cocktail party guests will be free to explore the grounds of one of the area's newest venues, Sitio Weddings & Events:
- Take pleasure in cheerful conversations and social games with your hosts, Greene Frame Events & Wild Embers Event Services.
- Mix and mingle in a casual space with our showcased wedding & event professionals.
- There's no better way to set the fun vibes in motion with music and photobooth from Euphoric Entertainment.
- Setting the scene for the night's festivities with lights and sound are Duluth Event Lighting and Duluth AV Logistics.
- Relish in some decedent food tastings from the Rambler MN food truck with Mid Coast Catering Co.
- Your appetizers will pair nicely with superior beer from Blacklist Brewing Co. and craft mocktails from Sober Sally's LLC.
- Smile for the camera! Andy Hardman Photography will be behind the lens capturing the experience.
- Don't miss this Instagram-able moment! Bloom and flourish in one of floral lounge settings crafted by florist, EVE by Diane Kaarbo.
- Care for a bounce? Jump around on Head Over Heels Inflatables Duluth white bouncy house!
- Personalize decor, drinks, food, and other elements of your celebration with Gaelic Leather Works and Mission Creek Design Co.
- Enjoy an interactive experience from our talented artists and entertainers throughout the night, Mago Glassworks and The Spin Collective.
The cocktail hour is when guests mingle with old and new friends, eat and drink a little, and basically get organized, locating any table cards before the reception begins. Make the most of this little window of time by introducing the unexpected and provide their guests with a fun and interactive experience.