Description
Learn what's happening on the national and local scene in the production and preservation of affordable housing. Do your plans encourage the best opportunities and are you working with your community development and transit departments? This interactive workshop and master class will highlight opportunities to foster production and preservation of affordable housing, the tools and resources available, and how planners, community development, transit and health sectors can plan and implement more effectively.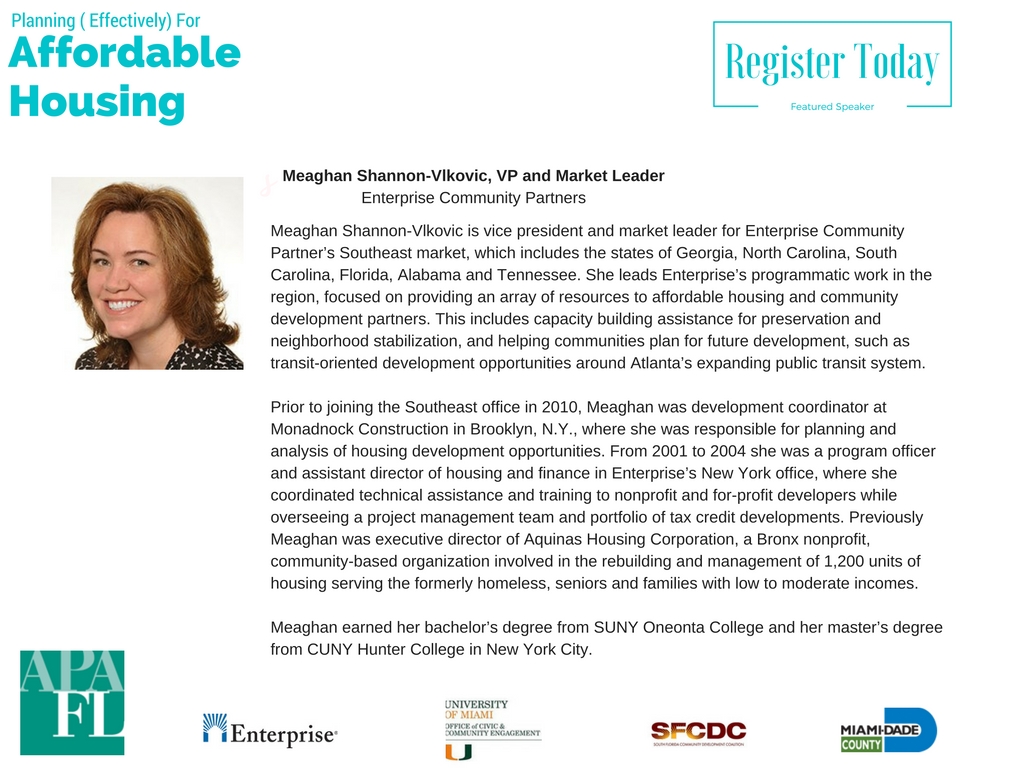 Featured Speakers:
Meaghan Shannon Vlkovic, VP & Market Leader, Southeast, Enterprise Community Partners
Panel Speakers
Arden Shank, President/CEO, Neighborhood Housing Services of South Florida/79th Street Coalition for Change
Kenneth Naylor, COO, Atlantic | Pacific Companies, Affordable Housing Division
Michael Liu, Director, Miami-Dade Public Housing & Community Development
Robin Bachin, PhD, Assistant Provost, University of Miami Office of Civic and Community Engagement
Moderator: Kim Brown, Department of Regulatory and Economic Resources, Planning Division
---
8:00 am to 11:15 am
National & Local Perspectives in Affordable Housing Development
Objectives
Provide an overview of national affordable housing planning efforts and case studies of what's working….and what we need to improve.

Showcase local affordable housing and transit oriented (TOD) in Miami-Dade County.

Discuss affordable housing planning efforts and proposed policies (outside of the traditional planning department) including the HUD Consolidated Planning process.

Demonstrate how tools such as University of Miami Affordability Project (MAP) tool can foster data driven planning decisions.

Discuss real challenges in affordable housing development and how effective land use policies can break down obstacles.

Provide targeted Master Class on affordable housing to explore practical applications for our region.

Leave the door open for more effective interagency planning and coordination.
11:15 am to 2:00 pm
Working Lunch & Affordable Housing Master Class
Master Class Topics
National Case Studies: Denver, Detroit and Atlanta

Roundtable Discussion Groups: Opportunities and recommendations to expand adoption of practices.

Affordable Housing , eTOD and Land Use policies

Affordable Housing and Development of Healthy Communities

Affordable Housing and Access to Economic Opportunity
WHO SHOULD ATTEND THESE EVENTS?
Federal, State, Municipal and County Planning Staff: land use, open space, transportation, zoning

Affordable Housing and Community Development Professionals (Government and Nonprofit)

Architects

Land Use Attorneys

Health Officials

Real Estate Professionals