Description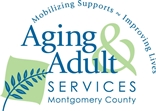 This conference will provide a forum for Montgomery County professionals who interact with older adults to identify and address elder abuse, neglect and exploitation by evaluating how our systems work, discussing problems, enhancing communication and improving access to justice. The sponsoring Elder Justice Roundtable is intended to take a systemic approach to sharing information, rather than a case-by-case review. Sessions will include representatives from law enforcement, prosecutors, defenders, Courts, the health care system, community advocates, long term care facilities, clergy and other community stakeholders. Our focus this year will be on Guardianships and Powers of Attorney. These important tools offer a great deal of protection for our seniors, but also are subject to abuse. This event will discuss the benefits of these tools, the potential abuses and resources for addressing suspected abuse.
Continuing Education Credits (maximum of 5.5 hours available):
CLE: $5.00/ credit hour to be paid by participant at the conference, check only.
CEU (SW): $15 for NASW members; $25 for non-members, regardless of number of hours attended, to be paid by participant at the conference, check only.
"NASW-PA Chapter is a co-sponsor of this workshop. 5.5 CEs will be awarded for completion of this course. NASW has been designated as a pre-approved provider of professional continuing education for social workers (Section 47.36), Marriage and Family Therapist (Section 48.36) and Professional Counselors (Section 49.36) by the PA State Board of Social Workers, Marriage & Family Therapists and Professional Counselors."
Training Hours for Personal Care Home and Assisted Living Administrators: Free
Conference Schedule:
8:30 - 9:00 Registration
9:00 - 9:15 Welcome & Introduction of keynote speaker
9:15 - 10:00 Keynote Speaker – Honorable Stanley R. Ott
10:00 -10:15 Break
10:15 -11:45 Case Study Panel Discussion
11:45 -12:45 Lunch
12:45 - 2:00 Workshops session 1
2:00 - 2:15 Break
2:15 - 3:30 Workshops session 2
3:30 - 4:00 Closing Plenary: Instructional Video
Case Study Panel Discussion
Panel participants will discuss prepared case studies examining the utilization of guardianships and powers of attorneys, how these documents may be utilized in the various settings such as health care providers, emergency rooms, senior centers, banks, law enforcement, the courts, the police and family. The objective is to educate conference participants about the function of these documents, common misuse and abuse of the documents and how those who work with seniors can best protect them from potential abuses. Additionally, we will discuss how these systems can work better together to prevent these abuses and educate others about the proper utilization of these important tools.
Panelists:
Risa Vetri Ferman, District Attorney of Montgomery County
Deborah L. Klock, President of DLK Managed Care Solutions, Inc.
The Honorable Lois E. Murphy, Judge, Court of Common Pleas
Robert Pearlstein, DO, gerontologist, Suburban Geriatrics
Workshops:
1. Powers of Attorney 101
Presenter will explain the legal definition of a Power of Attorney, how it may be created, when it may or should be used and by whom, and differences between Powers of Attorney needed for various purposes. He will also give a Top 10 list of the problems with Powers of Attorney from his real-life legal practice. Panelist is an experienced, licensed Elder Law attorney with many years of experience drafting and using Powers of Attorney. He will also encourage questions and discussion of actual situations.
Presenter: Robert C. Gerhard III, Esq., Gerhard & Gerhard, Glenside, PA, Professor Katherine C. Pearson, Penn State, The Dickinson School of Law
2. Spotting Abuse of Powers of Attorney and Guardianships
Participants will learn common abuses of Powers of Attorney and Guardianships. Discussion will center around financial exploitation and decision-making abuses. Information will be shared on how to address suspected abuses and the system response to those alleged abuses.
Presenters: Bradford Richman Esq., Dana Goldberg, Esq.
3. Healthcare Decision Making
Panelists will discuss issues related to health care decision-making for older adults. Covered will be issues related to those who have completed good planning documents and those who have not expressed their wishes with a focus on older adults who are no longer able to make their own decisions. The panel will provide a legal, ethical, and clinical perspective of surrogate decision-making and will include group discussion.
Presenters: Stephen A. Feldman, Esq., Michele Mathes, JD., Maria Weidinger, ACSW, LSW
4.Basics of Guardianships
This workshop will address a range of topics present in guardianship matters from determining capacity, to appointing an emergency guardian, to the roles and responsibilities of a guardian.
Presenters: Erin McDevitt Esq., Robert M. Slutsky, Esq.
Educational Video-Last Will and Embezzlement
Written and produced by Pamela S.K. Glasner and Deborah Louise Robinson, "Last Will and Embezzlement" features disturbing, first-hand accounts from real-life victims, including Hollywood icon Mickey Rooney, as well as in-depth interviews with experts who discuss such key issues as victim profiles, the perpetrators' modus operandi, reasons for vulnerability, as well as potential solutions to this ever-increasing worldwide problem.
Organizer of Planning Ahead: Guardianship & Powers of Attorney
The Elder Access to Justice Roundtable was created to bring together diverse representatives of the community to raise awareness, prevent, identify and address elder abuse, neglect and exploitation by enhancing communication, identifying systemic problems, sponsoring training, and improving access to justice and services in Montgomery County.
The Roundtable meets monthly with a membership representing such wide-ranging groups as police, the County Sheriff, the District Attorney and Public Defender's offices, health care and senior providers, legal advocates for seniors, hospitals, community advocates, judges from several Montgomery County judicial systems, the Recorder of Deeds, and members of the Office on Aging, Departments of Health, Veterans Affairs and Coroner's office.  This broad array of professionals touch the lives of seniors in varied ways but come together to share information, expertise and concern for the senior population of Montgomery County.