Description

Join us for this game-changing workshop with our speaker Monica Shah. Monica is a seven-figure business coach who helps entrepreneurs build businesses that support their ideal lifestyles. She combines her business acumen with her intuition and healing abilities to help her clients get unstuck, eliminate self-sabotage and move through fear. She is also the author of Getting Rich: You're Doing It Backwards and Pause: 52 Questions that Lead to More Money and Time.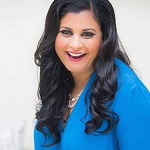 One of the hardest aspects of running a business is the rollercoaster ride of high income one month and low income the next. It leaves you worried and fearful about making your business work in the long run. It's also hard to figure out how to pay for and fit in an amazing life – while still rocking it in your business.
The trick is to pro-actively use models and systems to get out of the feast or famine mode. And that's all about PLANNING. Or if you're just getting started, setting your business up so you forgo the "revenue rollercoaster" altogether. Join Monica Shah to learn exactly how to set your business up for consistently high cash flow in 2018, so you have time for more of what you love this year.
What You Will Learn:
• The #1 reason women business owners have trouble keeping a high CONSISTENT cash flow in their business – and how to eliminate this issue in your own business
• The keys to client clarity – essential to generating thousands of dollars in new client income effortlessly (and why if you don't have this clarity, you're going to have a very hard time convincing clients to pay you what you deserve)
• 3 sneaky ways you are currently sabotaging consistent cash flow in your business and what you can do today to break free of these habits and enjoy the income you deserve
Agenda:
5 PM Sign In & Networking - light refreshments will be served
5:30 Opening remarks
5:45 Workshop begins
7:15 Close, networking
Organizer of Planning A Revenue Breakthrough for 2018: How to create consistently high income every single month
The National Association of Women Business Owners is the voice of more than 10 million women-owned businesses in the United States. Since 1975, NAWBO has helped women grow their businesses by sharing resources and providing a collective viewpoint to help shape economic and public policy. It is the only dues-based national organization representing the interests of all women entrepreneurs across all industries.