EARN MORE! TRAVEL MORE! SAVE MORE! EXPERIENCE MORE!
About this event
Hear from top income earners in our company, as we explain how to become a Travel Business Owner. Learn how to empower yourself and others with an unlimited income opportunity, where travel is the product!
3:30 PM REGISTRATION
4:00 PM PRESENTATION
5:00 PM TRAINING
NO REFUNDS / NO TRANSFERS / NO TICKETS WILL BE SOLD AT THE DOOR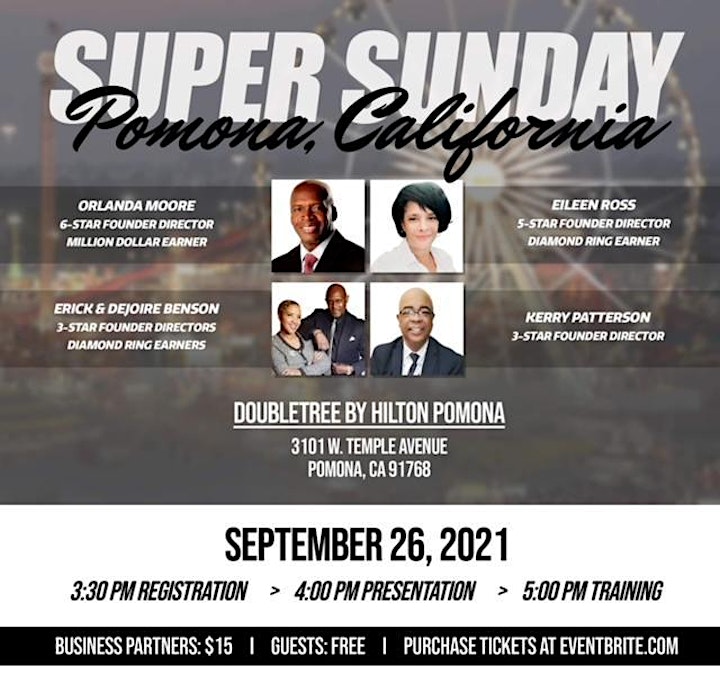 Organizer of PlanNet Marketing Super Sunday Pomona, CA
Erick & DeJoire Benson are Founder Directors with PlanNet Marketing, which means they became Directors in the company within the first 40 Days of its inception on October 26, 2015.  The Bensons are Three-Star Directors and Multiple Six-Figure Income Earners.  They work the business on a part-time basis.  Erick is a retired law enforcement agent.  DeJoire resigned from Corporate America over 20 years ago, after working for a decade.  She ended her career, to become a Stay-at-Home Mom, in order to be the primary caregiver of their youngest daughter, who has special needs.  They enjoy working from home as a TEAM, and are passionate about helping their TEAM members reach their goals.