PLANETSHAKERS II: 2018 DANCER IN ME & LB UNITY FESTIVAL - COVER THE EARTH
Sales Have Ended
Ticket sales have ended
Thank You! Now Get Ready to Shake the Planet & Transform Lives for the Kingdom! Still have questions? Contact us at 562-293-1700
Event Information
Location
CA State University Long Beach & Cabrillo HS
1250 Bellflower Blvd. (CSULB)
2001 Santa Fe Ave. (Cabrillo Auditorium)
Long Beach, CA 90840
Sales Have Ended
Ticket sales have ended
Thank You! Now Get Ready to Shake the Planet & Transform Lives for the Kingdom! Still have questions? Contact us at 562-293-1700
Description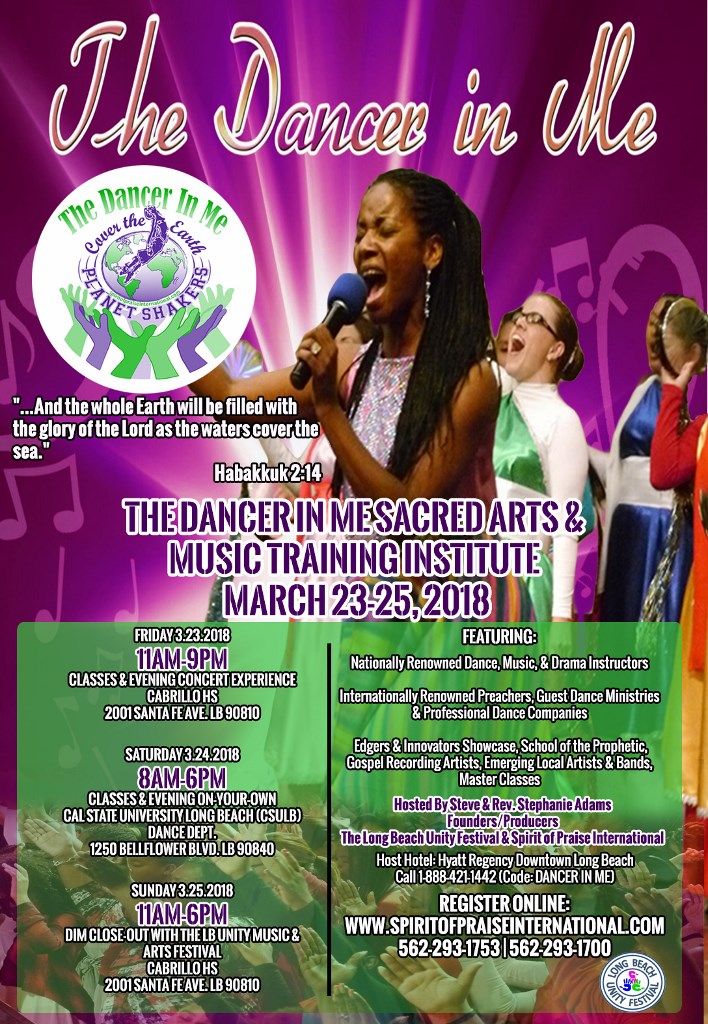 ABOUT US:
THE LONG BEACH UNITY FESTIVAL (President & CEO Steve Adams) is a non-profit 501c-3 organization which focuses on diversity in the Arts, Community Outreach, and transforming lives one neighborhood at a time. LBUF is the fiscal sponsor of SPIRIT OF PRAISE SACRED ARTISTRY INTERNATIONAL (SOP – Founder & Executive Director Rev. Stephanie B. Adams). SPIRIT OF PRAISE INTERNATIONAL is a community and faith-based performing arts and consulting ministry that instructs & empowers people from various cultural backgrounds & levels of spirituality in principles, disciplines, & guidelines of Sacred & Liturgical Arts with an emphasis on dance, the Word, writing, music, healthy lifestyles, and empowering children to reach their potential. Together, LBUF & SOP produce THE DANCER IN ME SACRED ARTS & MUSIC TRAINING INSTITUTE. Course offerings are for ages 6 and up. Registrants to THE INSTITUTE will be asked to select their PRIMARY COURSE OF STUDY, understanding that electives from a variety of other disciplines will be available to them. Adults are free to experiment across disciplines as they desire.
2018 DIM/LBUF TRACKS:
SCHOOL OF CONTEMPORARY DANCE
SCHOOL OF HIP HOP
SCHOOL OF MUSIC & WORSHIP
SCHOOL OF THEATER, MIME, & SPOKEN WORD (T.M.S.)
SCHOOL OF PAGEANTRY
SCHOOL OF PROPHETIC MINISTRY & GLOBAL ENGAGEMENT
SCHOOL OF VISUAL ARTS
SCHOOL OF FITNESS
SKY KIDS ACADEMY I (Beginner level, Children Ages 6-13)
SKY KIDS ACADEMY II (Intermediate-Advanced, Children Ages 6-13)
Once again, The Long Beach Unity Festival and Spirit of Praise Sacred Artistry International join forces to produce The Dancer in Me Sacred Arts & Music Training Institute, now in its 8th year under the theme, "PLANETSHAKERS II: COVER THE EARTH". The experience calls sacred artists and activists to shift out of their comfort zone and societal norms recognizing that the radical times in which we live will require the use of music & performing arts in unconventional ways designed to shake the foundations of this earth while bringing healing and transformation to individuals and the World.
DIM: PLANETSHAKERS II 2018 TENTATIVE AGENDA:
FRIDAY: 3/23/2018: 11AM-5:00PM: Orientation, Classes, Workshops @ Cabrillo Campus - 2001 Santa Fe Ave. LB 90810
7:00PM - Evening Arts & Worship Extravaganza! @ Cabrillo HS Auditorium (OPEN TO THE PUBLIC, FREE WILL OFFERING)
SATURDAY: 3/24/2018: 8:30AM-5:00PM: Classes, Workshops, Forums @ CSULB Campus Dance Department 1250 Bellflower Blvd. LB 90840
EVENING ACTIVITIES ON-YOUR-OWN -
SUNDAY: 3/25/2018: 11AM-6:00PM: The 18TH Annual Long Beach Unity Music & Arts Festival @ Cabrillo Campus Quad 2001 Santa Fe Ave. LB 90810 - Featuring: 11AM Palm Sunday Worship Experience (Guest Preacher Rev. Dr. Najuma Smith-Pollard) Special Guest Dance & Music Ministries (FREE & OPEN TO THE PUBLIC BEFORE NOON)
12PM-6PM: Community Dance & Music Classes, Kids Zone, Live Bands, Step Show, Featured Artists, Speakers, Food/Merchant/Resource Vendors & FEATURING THE DANCER IN ME PERFORMANCE MINISTRY SHOWCASE & CLOSE-OUT - Admission: FREE to ALL Registered DIM Attendees, Children 12 & Under, and Students with School I.D. ALL OTHERS: $5.00
OFFICIAL DIM/LBUF HOTEL(S):
Hyatt Regency Downtown Long Beach - 200 S. Pine Ave. Long Beach, CA 90802
The Marriott Residence Inn Downtown Long Beach - 600 Queensway Drive Long Beach, CA 90802
The Hotel Maya, on the Waterfront - Long Beach CA - 700 Queensway Drive Long Beach, CA 90802
Please Note: Transportation will be provided to/from hotel(s) to conference venues (i.e. CSULB, Cabrillo Campus) for registered, out-of-town hotel guests only. Official Airports are Long Beach Airport and Los Angeles International Airport (LAX) Airport transportation options ar on-your-own and include Shared Ride/Super Shuttle ($17 from LAX), Uber, Lyft, or Taxis from LB Airport for approximately $20.
QUESTIONS? We look forward to serving you! Call Us at 562-293-1700
VISIT www.spiritofpraiseinternational.com and www.lbunityfestival.com
Date and Time
Location
CA State University Long Beach & Cabrillo HS
1250 Bellflower Blvd. (CSULB)
2001 Santa Fe Ave. (Cabrillo Auditorium)
Long Beach, CA 90840
Refund Policy