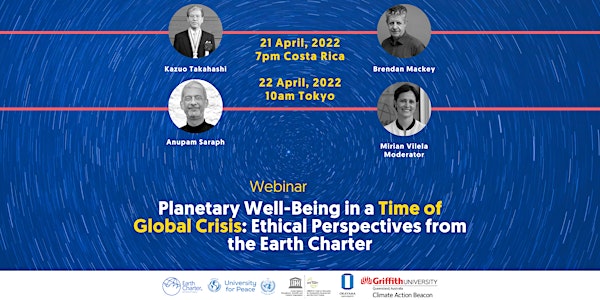 Planetary well-being in a time of global crisis: ethical perspectives
Planetary well-being in a time of global crisis: ethical perspectives from the Earth Charter
About this event
Amid the challenges of climate change, biodiversity loss, social disparity, and a lack of ethical leadership, what is our vision of Planetary Well-being and how can we contribute, and evaluate our contributions towards that through the ethical perspective of the Earth Charter?
Earth Charter International, Okayama University and Griffith University Climate Action Beacon are organizing an Earth Day event to provide an opportunity to exchange views and reflect about the challenges we face and the opportunities we have to turn things around in the direction of planetary well-being. The following questions will be addressed:
What is Planetary Well-being?
What are our contributions to Planetary Well-being?
How can we assess / evaluate our contributions to Planetary Wellbeing through the Earth Charter lens?