Planetary Defense 4-19-16 Tech Lunch

Tuesday, April 19, 2016 from 11:30 AM to 1:15 PM (PDT)
Event Details
LA-LV Section Technical Programs Presents
                    Technical Workshop / Seminar
Planetary Defense from Asteroids and Comets  
   Presenter:  Dr. Naham Melamed
  Our planet is at risk of being struck by Near Earth Objects (NEOs) such as asteroids and comets. We may need to find hazardous space objects and deflect them before they impact Earth and cause damage. The talk introduces the NEO threat, covering past events, current close approaches and Earth impact risk, NEO discovery, tracking, and mitigation concepts.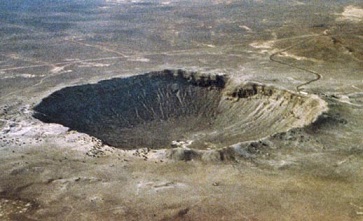 Arizona's Ancient Meteor Crater
  This is the third of four parts in a series about Planetary Defense & Space Debris. The fourth part is an Aero Alumni meeting the next day,11:00am to 12:00pm, April 20, at the Western Museum of Flight in Torrance, CA, followed by lunch at a nearby Olive Garden.
Our Presenter: 
    Nahum Melamed is a project leader at The Aerospace Corporation in El Segundo, California. He obtained Bachelor and Master Degrees in aeronautical engineering from the Technion, Israel Institute of Technology, and a PhD in aerospace engineering from Georgia Tech. He leads a collaboration with NASA's Jet Propulsion Laboratory (JPL) developing a physics based web NEO Deflection App, or NDA, to design NEO deflection missions and gain insights on the challenges involved. This  includes descriptions and tutorials that are necessary to interpret the data, supports planetary defense conferences, workshops and exercises, and is available online here. Dr. Melamed serves on planetary defense conferences and planetary defense exercises organizing committees, gives talks at these venues, and has instructed a planetary defense class over a dozen times.
Date                   Tuesday, April 19, 2016
Time                11:30 AM — 1:15 PM (Pacific)
Location          Aerospace Corporation
                              Cafeteria Bldg A3 Room 1607 A & B
                              2310 El Segundo Blvd.
                              El Segundo, CA 90245
Lunch      Included and will be available starting at 11:30 AM 
Please sign-up early, it helps our volunteer and shows appreciation for our hosts at Aerospace. The pizza lunch starts at 11:30, the presentation before 12:00, and Q & A should wrap up by 1:15. Directions with a map and entry instructions are included in your ticket confirmation or a subsequent email. Plan for a 5-minute walk to security check-in from the conference parking area, or request handicap parking at the gate. 
Registration End Date: 1:00 PM 4/12/16-US Residents
We Regret that Foreign Nationals Cannot be Registered After 4/11/16.
If you have problems or are a foreign national, email  gary.moir@ingenuir.com
When & Where

The Aerospace Corporation
Cafeteria Bldg A3 / 1607 A & B
2310 El Segundo Blvd.
El Segundo, CA 90245


Tuesday, April 19, 2016 from 11:30 AM to 1:15 PM (PDT)
Add to my calendar
Organizer
AIAA Los Angeles-Las Vegas Section
The nonprofit American Institute of Aeronautics and Astronautics (AIAA) is the principal society and voice serving the aerospace profession.  AIAA's mission is to address the professional needs and interests of the past, current, and future aerospace workforce and to advance the state of aerospace science, engineering, technology, operations, and policy to benefit our global society.
Planetary Defense 4-19-16 Tech Lunch