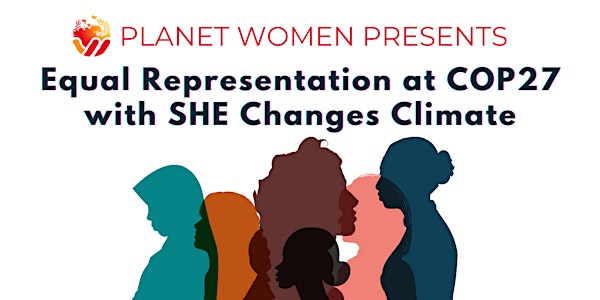 Planet Women Presents: Equal Representation at COP27 w/ SHE Changes Climate
Join Planet Women and SHE Changes Climate as we talk about the campaign for equal representation at COP27 and beyond.
About this event
The climate crisis is at our doorstep and it's affecting us all. Wouldn't you like to see everyone at the table negotiating climate policy or making global decisions about climate? That's not yet our reality.
At the United Nations Climate Change Conference (also known as COP), representation of women is still a long way from equal. At COP26 in Glasgow, only 38% of national delegates were women and only 13% of delegation heads were women. And it's not just COP, at the 2022 G7 Summit, there was only one woman among the decision-makers. This means that global climate solutions are not benefitting from the full breadth of experience that leaders of all gender identities bring to the table.
On October 5, join Planet Women to hear from the leaders of SHE Changes Climate (SCC), the organization spearheading the campaign for equal representation at COP27. SCC is a global nonprofit driving awareness of the crucial role that women play in accelerating just climate action. We are thrilled to welcome Elise Buckle, Bianca Pitt and Caroline Mair-Toby from SCC to answer your burning questions about COP27, which will take place in November. They will demystify the climate conferences, share what's next for the campaign to achieve gender equity at COP27 and beyond, and explain how you can make a difference.
Want to get excited for the conversation? Watch their amazing short film that gives voice to female leaders left absent from global climate negotiations and explores how to create a better future for all.
About the Speakers:
Elise Buckle, Co-Founder of SHE Changes Climate: Elise has been working in the field of climate and sustainability for 20 years. She is Co-Founder of SHE Changes Climate and President of Climate & Sustainability, a platform of collaboration for change-makers focusing on partnership for climate, people and nature. Her motto is "think global, act local." Elise has worked as special advisor to several high-level diplomats, and led several successful global and political campaigns.
Caroline Mair-Toby, Founder and Director of Institute for Small Islands: Caroline is an attorney with over 10 years of experience in public international environmental law, having worked with the Foundation of International Environmental Law and Development (FIELD) as a lawyer and Liaison Officer with the Legal Response Initiative, and as a Special Advising Consultant on climate change at the British Institute of International and Comparative Law. Caroline has been an advisor to the Government of Trinidad & Tobago, the Commonwealth Heads of Government, and the United Nations Development Program. She is a graduate of the University of Pennsylvania and the University of London, and holds an LL.M in International Environmental Law from the Inns of Court School of Law. Caroline has been called to the Bar of England and Wales and the Bar of Trinidad & Tobago, and is a member of the Honourable Society of Lincoln's Inn and the Law Society of Trinidad and Tobago.
Bianca Pitt, Co-Founder of SHE Changes Climate: Bianca is an advisor to the environmental charity sector, an activist and campaigner, and an environmental funder. She is the Founder of the Women of the Environment Network and Co-Founder at SHE Changes Climate. She also serves on a number of boards and advisory committees. She is a Fellow of the RSA and TEDx speaker. Bianca lives on a farm in West Sussex, which she and her family are turning into a regenerative venture together with some community farmers.