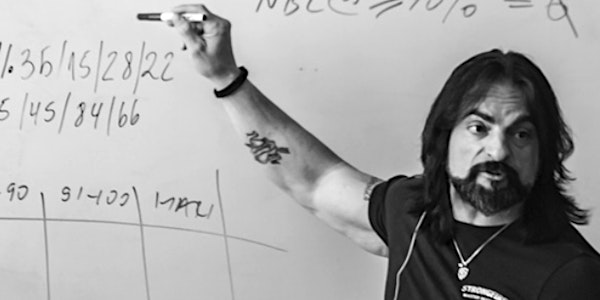 PLAN STRONG™ Online and In Person—Spanish
Bienvenido al invicto sistema soviético de Halterofilia Olímpica aplicado al entrenamiento general de fuerza. Power to you!
When and where
Location
Ludus Barcelona Equilibrium 371 Carrer de Còrsega 08037 Barcelona Spain
Refund Policy
Contact the organizer to request a refund.
About this event
🇺🇸
LEAD INSTRUCTOR
Fabio Zonin, StrongFirst Certified Master Instructor
LANGUAGE
English with Spanish translation
LOCATION
IN PERSON—Ludus Barcelona Equilibrium, 371 Carrer de Còrsega, Barcelona, CT, 08037
ONLINE—Zoom Online Video Platform
SCHEDULE
Spain Time (BCN)—GMT+2
1:30pm - 9:30pm Saturday
1:30pm - 7:00pm Sunday
USA Eastern Time (NY)—GMT-4
7:30am -3:30pm Saturday
7:30am - 1:00pm Sunday
CONTACT
This professional seminar is organized and licensed by StrongFirst Spain. All registration and other questions: please email strongfirstspain@gmail.com.
LIVE ONLY
Only the live version is available; in person or through the online platform. No recorded option.
MANUALS
Attendee manuals will be given at the seminar or mailed after it. No digital option will be provided.
Registration Cancellation by Participant—Carefully read the policy for each registration price on the checkout page.
3—Installment Payment Plan—This option is available for a limited time for select registrations. Carefully read the details on the checkout page. *Promo Codes cannot be applied with payment plan option
🇪🇸
INSTRUCTOR LIDER
Fabio Zonin, StrongFirst Certified Master Instructor
IDIOMA
Inglés con traducción en Español
LUGAR
EN PERSONA—Ludus Barcelona Equilibrium, 371 Carrer de Còrsega, Barcelona, CT, 08037
EN LINEA—Plataforma Zoom
AGENDA
Hora Española (BCN)—GMT+2
1:30pm - 9:30pm Sábado
1:30pm - 7:00pm Domingo
USA Eastern Time (NY)—GMT-4
7:30am -3:30pm Sábado
7:30am - 1:00pm Domingo
CONTACTO
Este evento profesional está organizado por StrongFirst España. Para más información sobre inscripciones y otras preguntas: envíe un correo electrónico a strongfirstspain@gmail.com.
SOLO EN DIRECTO
Solo está disponible la versión en vivo, ya sea en persona o a través de la plataforma en línea. No hay opción de acceder a la grabación..
MANUALES
Los manuales de los asistentes se entregarán en el seminario o se enviarán por correo después del mismo. No se proporcionará ninguna opción digital.
Cancelación de registro por parte del participante—lea atentamente la política aplicada a cada modalidad de inscripción en la página de pago.
3—Plan de pago a plazos—Esta opción está disponible por tiempo limitado para inscripciones seleccionadas. Lea atentamente los detalles en la página de pago. *Los códigos promocionales no se pueden aplicar con la opción de plan de pago

🇺🇸
StrongFirst is proud to present PLAN STRONG™—a state-of-the-art programming seminar
Learn how to apply the most sophisticated and powerful strength training system ever—the Soviet weightlifting system—to kettlebell and barbell military presses, weighted pullups and pistols, and the three powerlifts for extraordinary results.
The seminar is highly interactive, with some of you being asked to design programs together with the presenter and others offering feedback. There will be plenty of case studies and dozens of readymade plans, barbell and kettlebell, to take home with you—along with a highly detailed manual.
You do not need a background in sports science, endocrinology, or neuroscience to attend the PLAN STRONG™ seminar.
Visit our PLAN STRONG™ page for more details.
Read the PLAN STRONG™ requirements.
🇪🇸
StrongFirst se enorgullece de presentar PLAN STRONG™, un seminario de programación de vanguardia
Aprenda a aplicar el sistema de entrenamiento de fuerza más sofisticado y poderoso de la historia, el sistema de Halterofilia soviético, al Press Militar con Kettlebells y Barbells, a los Pull Ups y Pistols con carga, y a los tres levantamientos de Powerlifting, para obtener resultados extraordinarios.
El seminario es altamente interactivo, mientras a algunos de ustedes se les pide que diseñen programas junto con el presentador, a otros deben dar feedback. Habrá muchos estudios de casos y docenas de programas listos para usar, con Kettlebells y Barbells, para llevar a casa, junto con un manual muy detallado.
No necesita experiencia en ciencias del deporte, endocrinología o neurociencia para asistir al seminario PLAN STRONG™.
Visite nuestra pgina PLAN STRONG™ para más detalles.
Lea los requisitos en PLAN STRONG™ requirements.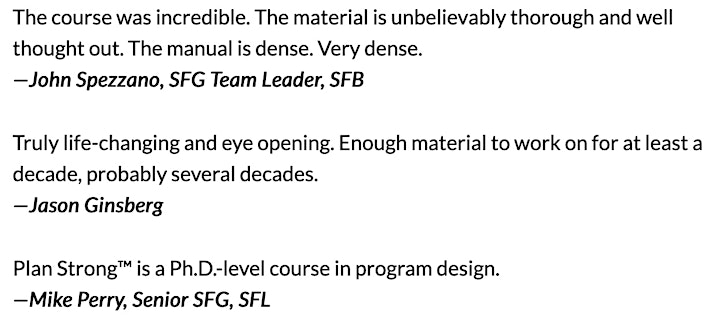 🇺🇸
STAY SHARP. STAY STRONGFIRST CERTIFIED.
Take advantage of the Unified Recertification and renew your current instructor credentials—included with your registration. Testing will be completed via video submission.
🇪🇸
SEA AGUDO. MANTENGASE COMO CERTIFICADO STRONGFIRST.
Aproveche la Recertificación Unificada y renueve sus credenciales de instructor actuales, incluidas con su inscripción. Las pruebas se completarán mediante el envío de videos.
🇺🇸
ALUMNI PRICING
At StrongFirst, we encourage our students to always keep their blade sharp and oftentimes re-attending an event helps getting a deeper understanding of the subject and of the subtleties that were missed the first time. For this reason we are offering a special registration price to our loyal alumni who would like to re-attend this seminar.*Promo codes or discount offers cannot be applied.
🇪🇸
PRECIOS PARA ALUMNOS
En StrongFirst, alentamos a nuestros estudiantes a mantener siempre su hoja afilada y, a menudo, volver a asistir a un evento ayuda a obtener una comprensión más profunda del tema y de las sutilezas que se perdieron la primera vez. Por esta razón, estamos ofreciendo un precio de registro especial a nuestros ex alumnos leales que deseen volver a asistir a este seminario. * No se pueden aplicar códigos de promoción ni ofertas de descuento.