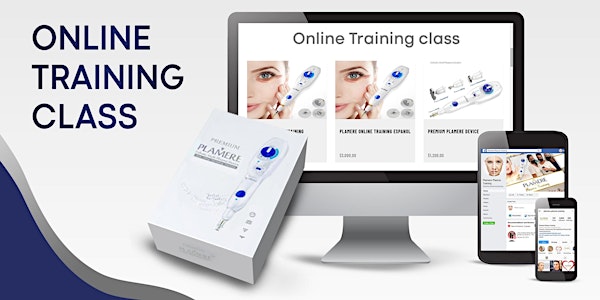 Plamere Plasma Fibroblast Training ONLINE DEMO ***Milan
Join our FREE online demo and learn all about Plamere Plasma treatments and the amazing benefits of joining Plamere Plasma Training Team!
When and where
Location
Eva estetica e benessere 80 Via Gallarate 20151 Milano Italy
About this event
Are you interested to learn more about Plamere Plasma Fibroblast Procedures?
Learn about Plasma Fibroblast and how this service can increase your bottom line!
Our certified practitioners procedures start at $400-$1500.
This Means: EARNINGS OF 100k+ ANNUALLY
We are the Premier Plasma Training company that offers the revolutionary
FDA Registered Premium Plamere Plasma Device
Our FREE Demo is available to join at no cost to you! Our representatives will be available for live Q & A on the dates scheduled but you will have immediate access to the Demo upon sign up. 
Topics that will be discussed during the demo:
FREE DEMO includes:
-Information about the Plamere Plasma Pen, and the 1 year warranty that is provided with the device.
-Instructor Assistance
-Plamere procedure Demo
-Discussion of importance of consultations
-Client Forms and resources provided exclusively to our Plamere Plasma Training Team
-Marketing your Plasma Services NOW before your training investment
ADDITIONAL INFORMATION:
CONSIDERING ONLINE TRAINING?
Learn more about the best online training available to become a Certified Plamere Plasma Fibroblast Practitioner. 
Detailed discussion of the 1 year access to Training Platform.
Talk about the 1 on 1 live  virtual instructors available as course upgrade.
CONSIDERING IN PERSON TRAINING?
Tune in to the possibility of hosting an in person small group training at your facility.
Custom dates available. Representatives will be on standby to address any questions you have about hosting a future class.
Don't miss the opportunity to attend our FREE DEMO and secure an exclusive view into our training programs options. 
EVENT COST: $ZERO
REGISTER TODAY FOR OUR FREE DEMO AT NO COST TO YOU!
Additional Questions? Call 833-252-3464
Visit our website for more information: www.plamereplasmatraining.com
***Fine print: Online Demo is not a training program. It provides an introduction to the technology and potential options for a career as a Plamere Plasma Fibroblast Practitioner. Attending a training to earn certification is not provided with registration for this free this event.