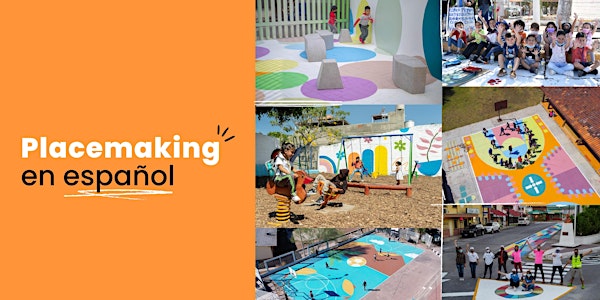 Placemaking en Español
Bienvenido a nuestro curso Placemaking en Español / Welcome to our Placemaking in Spanish course
When and where
Date and time
Tuesday, March 21 · 10 - 11:30am PDT
Refund Policy
Contact the organizer to request a refund.
Eventbrite's fee is nonrefundable.
About this event
1 hour 30 minutes

Mobile eTicket
Bienvenido a nuestro curso Placemaking en Español, que enseñará a los profesionales hispanohablantes, a los miembros de la comunidad latina y al personal público que hable español, los métodos y enfoques para la creación de espacios públicos con la metodología Placemaking.
El Placemaking se enfoca en observar, escuchar y hacer preguntas sobre las necesidades y aspiraciones de las personas que viven, trabajan y juegan en un espacio específico, con el fin de trabajar con ellas y crear juntos lugares más amables, atractivos, inclusivos, sostenibles y funcionales.
Es cierto que los latinos ya somos grandes creadores de espacios públicos: embellecemos los espacios de forma natural, los animamos y les damos sentido. Pero este curso tiene como objetivo apoyar lo que los latinos ya hacen bien, proporcionándoles la plataforma de Placemaking para dar más poder a sus esfuerzos por mejorar sus comunidades.
Durante este taller virtual en español, los asistentes aprenderán cómo el proceso de "placemaking" puede mejorar la calidad de vida, la salud, las oportunidades económicas, la sociabilidad y la equidad, y explorarán herramientas y metodologías para construir intervenciones y activaciones exitosas, tales como:
1. 11 principios del Placemaking
2. Diagrama del Lugar y Place Game
3. El poder del 10+
Estos procesos han sido probados por líderes y expertos en la materia, por lo que durante el curso podrás analizar diferentes ejemplos y proponer un caso práctico para revisar y mejorar tu práctica. ¡Viva el Placemaking!
Profesores:
Guillermo Bernal, Director global de programas en PlacemakingX y Director Ejecutivo de Fundación Placemaking México, Guillermo está comprometido con el urbanismo participativo para generar un impacto social basado en la sustentabilidad y el empoderamiento comunitario en México, Latinoamérica y Estados Unidos.
Bajo esta perspectiva, ha liderado cientos de proyectos en beneficio de las comunidades mexicanas y sigue trabajando por el mejoramiento de la vida pública por medio de la metodología Placemaking.
Luciana Renner, Directora de la Fundación Placemaking México. Lucy dirige la oficina de diseño urbano sin ánimo de lucro de Placemaking México, donde ha encabezado la creación de más de 200 espacios públicos en todo México.
Cristina Durán, Coordinadora de Sostenibilidad, en Placemaking México. Cristina ha dirigido varias iniciativas urbanas y ha desempeñado importantes funciones en la coordinación de la sostenibilidad en todo México, desde Tijuana hasta Monterrey.
===
Welcome to our Placemaking in Spanish course that equips Spanish-speaking practitioners, Latino community members and place-based staff who speak Spanish with placemaking methods and approaches.
Placemaking focuses on observing, listening and asking questions about the needs and aspirations of the people who live, work and play in a particular space, in order to work with them and create more friendly, attractive, inclusive, sustainable and functional places together.
It's true, Latinos are great placemakers already: we naturally beautify spaces, enliven them and make them meaningful. But this course is aimed at supporting what Latinos already do well, by providing them with the placemaking platform to give more power to their efforts to enhance their communities.
During this Spanish language virtual workshop, attendees will learn how the placemaking process can improve quality of life, health, economic opportunity, sociability and equity, and explore tools and methodologies for building successful interventions and activations, such as:
1. 11 Principles of Placemaking
2. The PlaceGame and Place Diagram
3. The Power of 10+
These processes have been tested by leaders and experts in the field, so during the course you will be able to analyze different examples and propose a case study to review and improve your practice! Viva Placemaking!
Teachers:
Guillermo Bernal, Global Program Director at PlacemakingX and Executive Director of Fundación Placemaking México, Guillermo is committed to participatory urbanism to generate social impact based on sustainability and community empowerment in Mexico, Latin America and the U.S.
Under this perspective, he has led hundreds of projects for the benefit of Mexican communities and continues to work for the improvement of public life through the Placemaking methodology.
Luciana Renner, Director of Fundación Placemaking México, Lucy leads Placemaking Mexico's non-profit urban design office where she has spearheaded the creation of over 200 public spaces across Mexico.
Cristina Duran, Sustainability Coordinator, Placemaking Mexico, Cristina has led several urbanist initiatives and held significant roles in sustainability coordination across Mexico from Tijuana to Monterrey.
About the organizer
We partner with practitioners to produce webinars and other content. From the Race and Place series to our Streateries webinar, we've gathered an incredible array of talent and ideas and created a method of event production that amplifies outreach. Partner with us to produce a webinar, digital workshop, or other online content.
PlacemakingUS is organized as a 501c(3) non-profit project of Social Environmental Entrepreneurs.