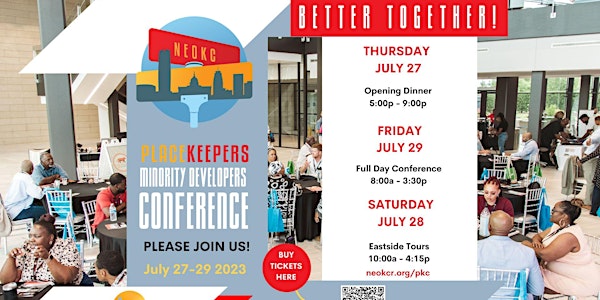 PlaceKeepers Minority Developers Conference : Better Together
3-Day minority real estate development conference hosted by Northeast OKC Renaissance, INC. NEOKCR.org/Placekeepers
By Northeast OKC Renaissance Inc.
Date and time
Thursday, July 27 · 5 - 9pm CDT
Location
OSU DISCOVERY 300 Northeast 9th Street Oklahoma City, OK 73104
Refund Policy
Contact the organizer to request a refund.
Eventbrite's fee is nonrefundable.
About this event
Join us for the 2023 Placekeepers Minority Developers Conference, where we will explore the theme of "Better Together." This 3-day event is designed for developers, entrepreneurs, and community leaders who are passionate about creating vibrant and sustainable neighborhoods that reflect the diversity of our cities.
On the first day (7/27), we will kick off the conference with an opening dinner at Metro Technology Centers Springlake campus featuring a plenary speaker who will set the stage for the discussions to come. This will be a great opportunity to meet fellow attendees and connect with like-minded individuals.
The second day (7/28) is the full conference day at OSU DIscovery, where we will delve into topics such as affordable housing, community development, and economic empowerment. We will have keynote speakers, panel discussions, and breakout sessions, giving you the chance to engage with experts in the field and share your own experiences.
The third day (7/29) will be a tour of the east side developments, where you can see firsthand the innovative projects that are transforming communities and meet the people behind them. This will be a great way to gain inspiration and ideas for your own work.
Conference attendees can pick and choose which events they would like to attend. The full conference experience, including the opening dinner, full conference day, and the east side tour, is available for $200. If you can't make it to the entire conference, you can still attend individual events at a reduced rate.
Join us for the PlaceKeepers Minority Developers Conference and be a part of building a more inclusive and sustainable future for our cities.
Thursday 7/27 @ Metro Technology Centers
(5:00p - 5:30p) - Registration
(5:30p - 6:15p) - Agenda overview, NEOKCR intro, Opening Video
(6:15p - 07:15p) - Plenary #1 Dinner featuring all speakers, Moderator: David Meadows & Panel
(07:15p - 09:00p) - Opening Happy Hour/Social
Friday 7/28 @ OSU Discovery
(8:00 a- 8:30a) - Doors open, morning mingle networking
(8:30a - 09:00a) - Welcome/Agenda Overview
(09:00a- 10:00a) - Plenary #1
(10:00a - 10:45a) - Breakout block #1 -
(10:45a - 11:00a) - Transition to Lunch
(11:00 a- 12:00p) - Lunch
(12:00p - 12:15p) - Transition to Auditorium
(12:15 p- 1:15p) - Breakout block #2
(1:15p - 1:30p) - Transition to Auditorium
(1:30p - 3:00p) - Interactive Session
(3:00p - 3:30p) - Closing Remarks
Saturday Tours - 7/29 pickup @ First Americans Musem
(10:00a) - Pick up @ FAM
(10:00a-11:00a) - FAM
(11:00a-11:15a) - Transition
(11:15a - 12:15p) - Bridge Impact Center
(12:15-12:30) - Transition
(12:30p-1:30p) - Site #3/Lunch EastPoint
(1:30p-1:45p) - Transition
(1:45p - 2:45p) - Site #2 Freedom Center
(2:45p-3:00p) - Transition
(3:00p-4:00p) - Senior Wellness Center
(4:00p-4:15p) - Drop Off @ FAM