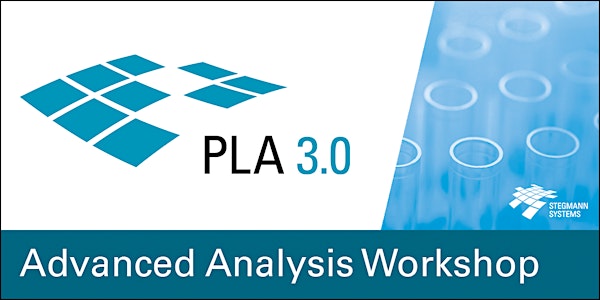 PLA 3.0 Advanced Analysis Workshop, virtual (Jun 02, Europe-MidEast-Africa)
PLA 3.0 Advanced Analysis Workshop for Biological Assays: Reveals much more in-depth details than the PLA 3.0 Super User Training
About this event
PLA 3.0 Advanced Analysis Workshop for Biological Assays
While the PLA 3.0 Super User Training focusses mainly on the workflow aspects and basic analysis tasks, the PLA 3.0 Advanced Analysis Workshop for Biological Assays reveals much more in-depth details. We offer this training for a small group. This setting allows us to customize the training agenda to the individual requirements of the participants and to answer your specific questions.
What are you going to learn?
The training concept is modular and the agenda depends in some parts on the needs of the attendees.
Quantitative Response Assays
Response and Dilution Handling
Regression Models
Potency Estimation
ANOVA Models
Configuration Optimizer for Parallel-Line Assays
Assay and Sample Suitability Tests
Combination Calculations
Reportable Values from Assay Replicates
Simple mean calculation vs. combination calculations
Equivalence Margin Development
Challenges with Equivalence Margins according to USP <1032>
Development of an Equivalence Test System from historic assay data
Challenging a developed Equivalence Test System
Simulation of acceptable curve shapes
Who should attend?
Bioassay scientists
Functional administrators
Statisticians
Template designers
Quality and validation professionals
Duration
Where does the training take place?
We offer this training virtually via GoToTraining
Participant limit and pricing
3-15
Group discounts are available if you have more than 10 attendees.
What about training certificates?
Each participant will receive a certificate upon completion of the training (attendance is required).
-----
For more information about our PLA 3.0 training options, please visit: www.bioassay.de/training
Should you have any questions, please contact our Sales Team at sales@bioassay.de
-----
Refund policy and other terms and conditions: Please note, that by registering for the training, you agree to our Training and Support Services Agreement.
We reserve the right to cancel the training session two days before the event takes place if the minimum number of participants has not been reached.
-----
Group discount available - please contact our Sales Team at sales@bioassay.de