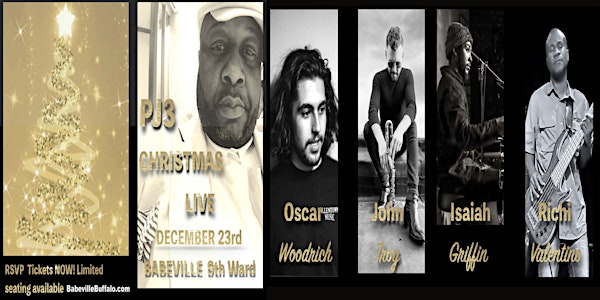 PJ3 Christmas Live
ALL AGES
Babeville Presents
PJ3 Christmas Live in the 9th Ward
When and where
Location
The 9th Ward at Babeville 341 Delaware Avenue Buffalo, NY 14202
About this event
Get ready to hear your favorite Christmas songs in a whole new way at PJ3 Christmas Live! A night of great music with a group of amazing artists featuring: Oscar Woodrich, John Aaron Troy, Isaiah Griffin, Richi Valentino, and PJ3. 2 sets!
PJ3 as an artist and producer, has worked in virtually every genre of music. In Western New York, at the age of 5, he showed glimpses of musical brilliance playing the piano and singing. Years later in high school, with the purchase of a drum machine, 4 track recorder, and keyboard, he produced his first rap CD at the age of 15. That same year, he got accepted to Berklee College of Music's Summer courses. There, he was introduced to various styles of music including jazz, fusion and early forms of EDM.
Currently, he started a boutique indie label, "Future Audio Universe Asia" in his quest to expand his sound. Crafting timeless songs reflecting his international escapades, along with cultivating and developing an eager new generation of artists.
Keeping a torch lit to lead the way with an array of musical styles that will surprise and take listeners on a journey through the human condition of anger, love, compassion and redemption.
The Future is now...The Future of Music is PJ3.