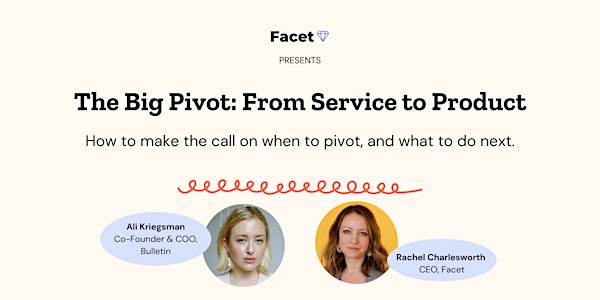 Pivoting Your Company From Service to Product
Join us for a virtual event series & curated networking with fellow founders.
About this event
Join us on Zoom: https://us02web.zoom.us/j/88059132368
Maybe you see the writing on the wall for a full pivot, or just want to shift your business from service to product.
Ali is the Co-Founder and COO of Bulletin, a retail company that successfully pivoted from brick & mortar to a 2-sided marketplace earlier this year.
She's going to share how to spot signals that you need to pivot, how to make decisions through the process, leveling up as a leader through it all!
Thurs, Dec 10, 2020 4 PM ET
30 min: Learn best practices from Ali
20 min: Small group networking in breakout rooms
After the conversation with Ali, you'll meet 5-10 other entrepreneurs to share what you're working on.
***Limited registrations***
About Facet: We're a close-knit community where first-time founders tackle their hardest challenges. Used by creative thinkers from Ben Franklin to Sara Blakely, noncompetitive peer circles are proven to help founders make better decisions, manage the unknown, and grow faster. Learn more & apply to join →