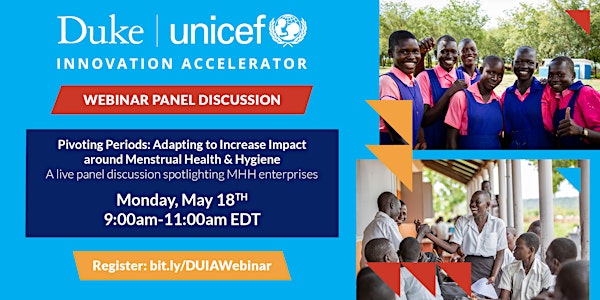 Pivoting Periods: Adapting to Increase Impact around MHH
Pivoting Periods: Adapting to Increase Impact around Menstrual Health & Hygiene - A live panel discussion spotlighting MHH enterprises
About this event
Brought to you by the Duke UNICEF Innovation Accelerator, this open webinar panel discussion will focus on how social enterprises working in menstrual health and hygiene globally have developed and adapted their business models to respond to changes in their operating environment.
Panelists include:
Julie Weigaard Kjær , Co-Founder and CEO, Ruby Cup
Sophia Grinvalds , Co-Founder and Director, AfriPads
Malyse Uwase, Director of Health and Impact , Kasha
The panelists come from successful social enterprises working on topics and innovations related to menstrual health. During the course of the discussion, they will share their insights about their business and distribution models and how they have evolved over the years, whether due to changing needs of women and girls, market-specific challenges (e.g. in light of increased competition) or global influences (like now, due to COVID-19).
The event aims to shed light on how MHH businesses have risen to meet the challenges of a rapidly growing and changing field, and provide inspiration and lessons for other organizations on responding to the challenges of the COVID-19 pandemic. The panel will be moderated by Maria Carmen Punzi, PhD Candidate & Menstrual Health and Social Change Expert & formerly at PSI
All attendees are invited to continue the discussion during the Virtual Conference on MHM in Schools on Thursday, 21. May 2020.