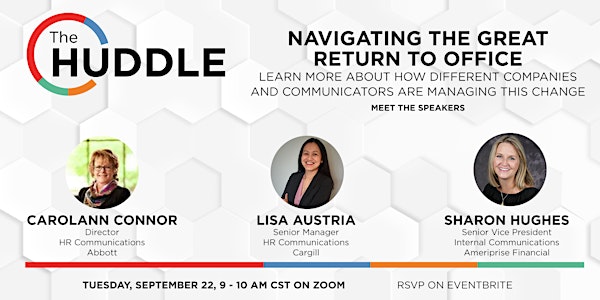 Pivot Huddle presents COVID Communications: Navigating The Return to Office
Bringing together communications leaders to discuss how we're navigating changing COVID communications and returning to the office - or not.
About this event
Huddle Topic: Join Carolann Connor, Lisa Austria, Sharon Hughes and Pivot founder, Stacia Nelson for a panel discussion about returning to the office, or not, during COVID and how different communicators and companies are navigating this change. We will be focusing on the best practices for COVID communications and how you can implement them in your own role and company.
Day: Tuesday, September 22
Time: 9 - 10 AM CST
Place: Zoom
Carolann Connor, Director, HR Communications at Abbott
Carolann has extensive experience in corporate communications, including developing effective strategies for internal and external communications. Her passion is internal communications while she specializes in HR communications, crisis management, merger/acquisitions, change management and corporate-wide initiatives. She has been a trusted adviser to multiple senior management and board of directors members.
Lisa Austria, Senior Manager, HR Communications at Cargill
With over 15 years of experience, Lisa is a reputable partner to leaders and has extensive experience developing and executing communication plans. She maintains strong working relationships with all levels while being a supportive mentor for her peers and an asset to her project teams. She is a proven leader who establishes a clear vision for teams to achieve goals and unlike many, has a unique ability to focus on the big picture while navigating across a complex organization.
Sharon Hughes, Senior VP, Internal Communications at Ameriprise Financial
A native of Kansas, Ms. Hughes made Minnesota her home 23 years ago. Her professional career includes 25+ years of experience creating and executing communications and marketing strategies, as well as product and database development -- primarily in the financial services and real estate industries. In 2007, Sharon joined the Corporate Communications department at Ameriprise Financial. Today she is SVP of Internal Communications leading the strategic direction of their global communications for the internal employee and advisor audiences – this includes editorial planning, internal consulting, strategic meetings management, systems and delivery.
About The Huddle: Pivot's Huddle is a place for corporate communicators to gather and discuss the topics that matter most in an intimate setting. Since starting Pivot five years ago, we have heard a lot from clients and colleagues about common trends, questions and needs. With The Huddle, we will bring together curated topics and speakers that will ignite new ideas and spark shared learning as you connect with others in similar roles.