Pittsburgh Technology Professionals Networking Night
Description
Join us for the Build412 Technology Professionals Networking Night! (FREE)
WHEN: Wednesday, June 26 @6:00 PM
WHERE: SteelBridge Labs (Strip District), 2818 Smallman St, Pgh PA 15222
A fun and relaxed evening of networking with a great group of friendly and interesting tech people (like yourself!) This is an awesome opportunity to meet other people involved in our city's amazing tech scene. It's free to attend, so bring your co-workers, bring your friends, and come on out and join us!
In addition to an already amazing group of innovative local tech professionals, we will also have some featured guests attending who will be there to network with you. Come out, have a drink, chat with them - they want to meet you!
Ben Wilson - CEO of Rivers Agile. Ben founded Rivers Agile in 2008 and has grown his company into a recognizable force in Pgh - providing a full range of solutions, from product design to QA testing and training, to software development. Ben's still as passionate as day one and feels lucky to work alongside a talented team of developers, testers, strategists, and innovators. Come out to meet Ben, he wants to meet you...and maybe even hire you, because Rivers Agile is HIRING! View all of the amazing available career opportunities at Rivers Agile HERE.

Tim Haluszczak - Co-Founder of SteelBridge Labs, Pittsburgh's early-stage FinTech incubator. Tim participates on the investment committee, completes initial due diligence of seeded portfolio companies, and makes introductions for those seeking follow-on rounds. Additionally, Tim serves on the advisory boards of several portfolio companies within The Lab, offers guidance, and provides mentorship to C-Level management within those companies. Come out to meet Tim, he wants to meet you! Learn more about the companies within their portfolio here.

YOU - Come out and join us and meet others who are working in this great city of ours. Let them know who you are and what you're working on and/or interested in. Amazing things might happen!
It doesn't matter what your background is....'tech' is a broad definition and all are welcome. Our attendees come from a wide variety of backgrounds but share one thing in common - an interest in meeting other people who work in/around technology...developers, designers, engineers, executives, hiring managers, data analysts, project managers, sales/marketing leaders, local business owners, job seekers, entrepreneurs, investors, startup founders, etc. This is an open event, free of charge and you just need to register to attend.
Two drink tickets per attendee as well as light apps will be provided courtesy of our sponsors. (Yay! Thanks!)
---
Check Out Our Amazing Sponsors!

Developers, testers, analysts, and innovators focused on achieving your strategic vision. From design to dev to QA, we merge strategy with engineering to craft meaningful software solutions.
Join our Team - We are Hiring for the Following Positions!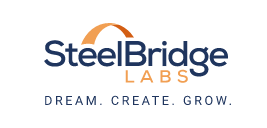 SteelBridge Laboratories is an early-stage FinTech incubator that provides a safe space for innovation to tackle real world problems. Entrepreneurs, coders, investors and technologists looking to take an idea from its infancy and grow it from the ground up now have a place to call home. Learn more about the companies within their portfolio here.