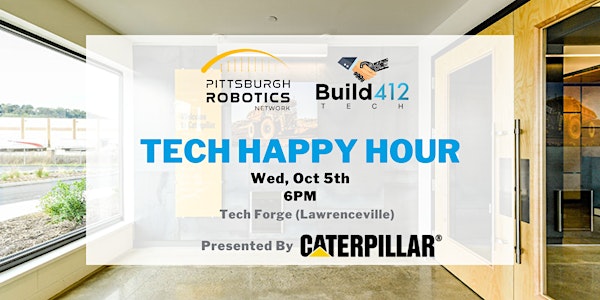 Pittsburgh Tech Happy Hour
⭐ Awesome Tech/Robotics Happy Hour - In-Person Networking Event! ⭐
When and where
Location
Caterpillar Pittsburgh Automation Center 105 47th St Pittsburgh, PA 15201
About this event
Join Us For Pittsburgh's Tech Happy Hour!
WHEN: Wed, Oct 5th @6PM
WHERE: Caterpillar Pittsburgh Automation Center (Tech Forge in Lawrenceville)
This month, the Pittsburgh Tech Happy Hour is taking over the Caterpillar Pittsburgh Automation Center!
There'll be plenty of open space, a rooftop deck, live robotics and off-road autonomy demos, hands-on remote operator demos, AMAZING tech people to meet and chat with, jobs, food, drinks and more!
Complimentary food and drinks (Beer, wine, soft drinks, lite bites, etc) are provided courtesy of our fantastic event sponsor: Caterpillar
Hosted In Partnership By: Pittsburgh Robotics Network & Build412 Tech

Pittsburgh's Tech Happy Hour!
Come hang out, have a drink and talk to other humans. Learn about cool tech companies, technology and automation innovations, new jobs and more. It's a welcoming and friendly atmosphere, so bring your co-workers, bring your friends and come on out and join us! 
Join 200+ of this city's most interesting tech/robotics professionals and leaders of all backgrounds & tech industry areas. All are welcome: developers, hardware engineers, software engineers, designers, tech founders, tech execs, hiring managers, data scientists, analysts, digital creatives, tech sales/marketing leaders, project managers, job seekers, tech startups, investors, etc. 
It doesn't matter what your background is....'tech' is a broad definition and all are welcome. Our attendees come from a wide variety of backgrounds but share one thing in common...an interest in meeting other people who also work in/around the tech industry.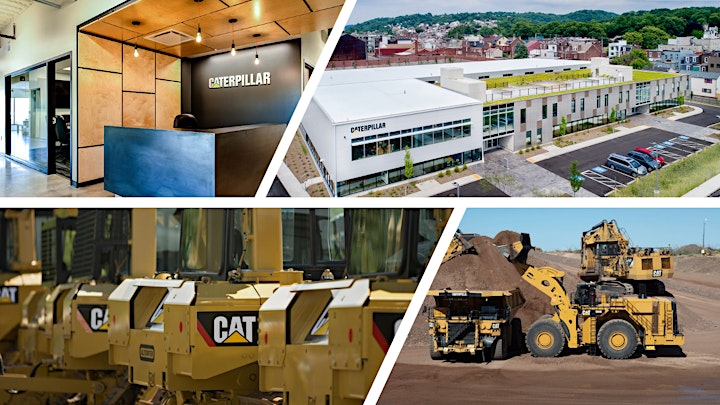 Caterpillar is a leader in innovative tech, robotics, and autonomy, and has been for over 30 years. We have cutting edge technology running on autonomous equipment today – at 18 sites on 3 continents – making real change in the world.
The Caterpillar Pittsburgh Automation Center is hiring and needs problem-solvers who strive for challenging, meaningful work that makes a global impact. Our teams develop the technology for everything from driverless mining trucks to remote control bulldozers and excavators; and you'll innovate to design the solutions of tomorrow! Check out our career opportunities today:
FAQs
Parking
There is ample parking available on-site to all attendees in the rear parking lot behind the Tech Forge building (free). Entry to this lot is located off of 38th Street, or by driving around to the back of the Tech Forge office building (behind the CAT office building.)
Dress Code
There is no required dress code for this event (smart casual will be just fine).
Onsite Arrival
We are taking over the Caterpillar Pittsburgh Autonomy Center in Lawrenceville! The location is at the Tech Forge office park, Caterpillar Pittsburgh Automation Center, 105 47th St, Pittsburgh, PA 15201.
There will be plenty of open space to spread out, a rooftop deck to enjoy spectacular views of the live outdoor off-road autonomy demos, learn more about the Caterpillar PAC and the work they do, as well as network with your peers! Upon arrival, follow signs to enter the building using the back entrance (accessible from the rear parking lot), register at the event check-in desk, and receive your printed name badge.
Refreshments
Complimentary beer, wine, drinks, and food will be provided.
Photo & Video Disclaimer
Video footage and/or photos will be taken during this event, which may or may not include your recognizable image. Please be advised, by registering for this event, you permit the Pittsburgh Robotics Network (PRN) to use the images in print, digital or web-based formats in publications or other media material produced, used or contracted by the PRN for promotional and/or archival purposes.
Contact Information
For questions about this event, please contact: events@robopgh.org
Interested in Sponsoring an Event?
Pittsburgh robotics companies are leading the future of robotics - not just locally, but globally. Partnered with 100+ regional robotics organizations, the PRN brings these organizations together for events, networking and other important initiatives. The PRN also supports these organizations by bringing well-deserved visibility to their work - visibility that is critical to the success both of these organizations and our region as a whole.
Sponsorship can offer your business significant benefits. Contact us today!