Description
Please join us for Pittsburgh's Tech Happy Hour!
WHEN: Wednesday, January 8th @6PM
WHERE: De Fer Coffee & Cocktails (Strip District) 2002 Smallman St Pittsburgh, PA 15222 Classic European cafe culture in the heart of Pittsburgh's Strip serving amazing coffee, tea, kombucha, cocktails, wine, and craft beer.
Join 200+ of this city's most interesting tech professionals and tech leaders of all backgrounds & tech industry areas: developers, designers, engineers, founders, executives, hiring managers, data analysts, digital creatives, sales/marketing leaders, project managers, local tech business owners, job seekers, entrepreneurs, startups, investors, etc.
This is an awesome opportunity to meet other people involved in our city's amazing tech scene, talk about projects and socialize. Learn about cool tech companies, technology innovations, new jobs and more! Bring your co-workers, bring your friends and come on out and join us!
It doesn't matter what your background is....'tech' is a broad definition and all are welcome. Our attendees come from a wide variety of backgrounds but share one thing in common...an interest in meeting other people who work in/around technology.
Join our Meetup Group to stay informed about other exciting upcoming events: Tech Happy Hour - Pittsburgh
Special thanks to this month's Tech Happy Hour sponsors:

StartNow is a news media organization that covers the tech, innovation and entrepreneurship spaces in Pittsburgh's ecosystem. We're bringing to light the stories that matter most and the activity that drives progress. Sign up now to receive the latest startup ecosystem news in your inbox every Monday morning.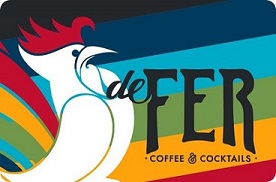 De Fer - Classic European cafe culture in the heart of Pittsburgh's Strip District. Roasting out of our cafe in Pittsburgh's historic Strip District, de Fer is bringing unique, delicious and sustainably-sourced coffee and tea to Pittsburgh and beyond. In addition to freshly roasted coffee, we also offer a thoughtful selection of wine, beer, kombucha and craft cocktails. At our cafe, you'll find homemade foods and other local delicacies like pastry, bread, syrup, honey, chocolate, pasta sauce, charcuterie, olive oil and vinegar to name just a few.