Pittsburgh Informatica User Group Spring 2017 Meeting
Description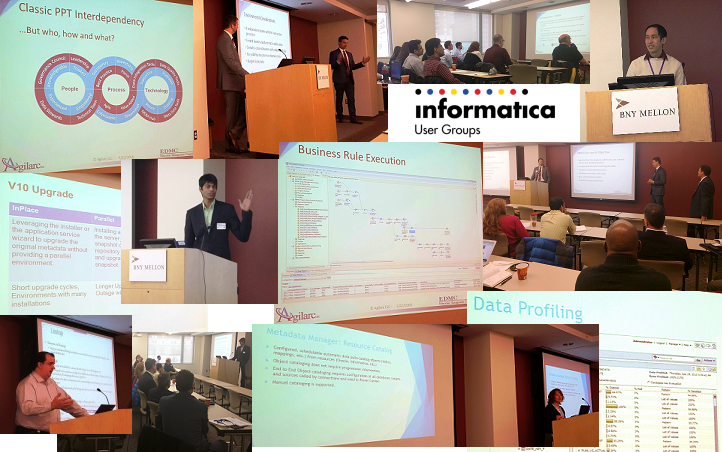 We are a group of architects, developers and analysts focused on sharing knowledge on the Informatica Platform including PowerCenter, Master Data Management, Data Quality, Big Data, Enterprise Data Integration, Data Governance, Metadata Management, Data Replication, Data Masking, Application ILM, Data Security and Informatica Cloud iPaaS Integration.
Join us to network with other users, share best practices, hear about new features and stay on top of Informatica's direction as a company.
Meeting Agenda
08:30 Registration and Breakfast
09:00 Welcome and Announcements
09:05 Informatica presentation - Catalog and Manage All Enterprise Data Assets to Maximize the Value of Your Data.
Data is becoming the lifeblood of our economy, and data-driven companies are turning their data assets into revenue and profits. The first step to managing your data as an enterprise asset is to take inventory of it, assess its value, and maximize its use—just like you do other significant capital and operational investments.
Learn how Informatica provides a machine-learning based discovery engine to collect data assets across the enterprise while increasing the understanding of those data assets through a graph-based enterprise information catalog and provides pre-built data preparation facilities to get more analysts, data scientist and developers part of the data process.
Michael Tomechak is a domain subject expert at Informatica for Big Data Technologies. He is an data professional and evangelist for helping organizations become data ready enterprises, which require the ability to have safe, clean, reliable data to create innovation for their customers and ecosystems.
Throughout his career over 25 year career, he has created data solutions within focus areas of Big Data & Analytics, Architecture, Machine Learning and Statistical Algorithms.
10:00 Customer presentation - Using Vibe Data Services to Replicate Data from Informix to SQL Server
Mark Waters, Development Manager of the Systems Integration Solutions within Kroger Technology. Mark has been with the Kroger Company for over 9 years in the Data Integration area, first as a developer and now as manager. Over the last 2+ years, Kroger has worked to convert all ETL processing to Informatica PowerCenter, instituted IDQ, and is working on rolling out new services with Vibe Data Service and Change Data Capture.
10:20 break

10:30 Partner presentation - Knowledgent - Information Access, Data Cataloging and Metadata Management with Informatica Big Data Management and the Intelligent Data Lake
Jose Garcia, Partner Consultant, Knowledgent

11:30 Customer presentation - Informatica Cloud Pay-As-You-Go for Microsoft Azure
David Mischick, BNY Mellon
11:50 Evaluations and Meeting Wrap-Up

Security
All attendees will need to register with building security and show a photo ID at the security desk in the lobby to get a visitor's pass.

Parking
The closest parking garage is the Mellon Square Garage, which is underneath Mellon Square Park (796 spaces) http://www.pittsburghparking.com/mellon-square

Date and Time
Location
UPMC Center for Connected Medicine
600 Grant Street
US Steel Tower 56th floor
Pittsburgh, PA 15219