Pittsburgh Executive Speaker Series: John Thornton, CEO of Astrobotic
Description
Join Build412 Tech, Pittsburgh Business Exchange and the Pittsburgh Downtown Rotary Club as we present this Pittsburgh Executive Speaker Series featuring John Thornton, CEO of Astrobotic.


Pittsburgh Executive Speaker Series
John Thornton, CEO of Astrobotic
"Returning America to the Moon"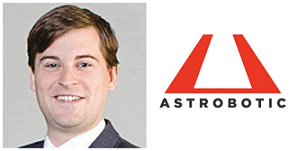 John Thornton has grown Astrobotic's business of delivering affordable space robotics technology and planetary missions by attracting technology contracts, equity investment, and payload customers. Thornton is coordinating the team and alliance for Peregrine's development and the first mission. At Carnegie Mellon, Thornton led the build of Scarab, a NASA concept robot for lunar drilling, and the first robot to carry a prototype of NASA's RESOLVE payload. He founded Carnegie Mellon's Advanced Composites Lab, a research, training, design, and manufacturing lab specializing in high performance, lightweight composites for robotics.
AGENDA

12pm - Registration, Luncheon, Networking
12:20pm - Welcome Announcement and Rotary Invocation*
12:30pm - Presentation by John Thornton
1:30pm - Networking

Your ticket includes access to the entire program: full luncheon buffet, speaker presentation, networking, etc.
*Please note that Build412 Tech and PBX are working in partnership with the Rotary Club of Pittsburgh for this luncheon speaker program. Rotary has over 100 years of tradition: first the invocation, second the Pledge of Allegiance, third Rotary Club announcements and introductions of guests.
Presented By:

Discounted Ticket option available to Build412 Tech Members!
Build412 Tech Members $30 | Non-Members/Guests $55
Not a member yet? If you would like to become a member of Build412 Tech now to get instant access to our discounted ticket option (and so much more!) please sign up now and join us. https://www.build412.org/membership/
Not sure if your company is already a member? Send an email to info@build412tech.com if you have any questions about this event, our organization or membership.