Description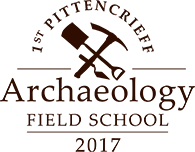 Pittencrieff Park in Dunfermline is one of Fife's important heritage landscapes.
This July, through the wonders of archaeological research, we will learn and share more about some of its treasures as members of local youth groups and other young people learn practical archaeological skills.
Participants will be mentored by experienced students and Young Archaeologists' Club leaders, keen to share a wealth of archaeological experience and enthusiasm.
Participants must be between the age of 8 and 18.
Each school runs for three days, including the start date. Each day follows the same routine:
09:40 – Meet at Pittencrieff Park car park: A907, Pittencrieff Road near to the junction with the Coal Road/William Street.

10:00 – First activity.

11:00 – Break with snack and drink.

11:20 – Second activity.

12:30 – Picnic lunch.

13:30 – Third activity.

14:30 – Break with snack and drink.

14:50 – Fourth activity.

16:00 – Pick-up from Pittencrieff Park car park.
Find out a lot more at http://parkaeology.org