Join Pitt County 4-H In the Garden this July for fun and interactive lessons and events!
About this event
This July Pitt County 4-H will host a series of hands-on interactive lessons and activities on-site at the Pitt County Arboretum. Programs include our Just Grow It garden education program, Storytime in the Garden, and Children's Yoga in the Garden. Your children are sure to have a blast while learning with our N.C Cooperative Extension professionals and volunteers. Best of all these programs are free of cost to all participants. Limited space available, so sign up today claim your spot!
* Due to the nature of this program parent/guardian must remain with the child for the duration of the program.*
Most suitable for ages 5-12, however younger children are welcome with parental supervision and older children are welcome to participate!
For questions related to this program, please email Lauren Dail at lsdail2@ncsu.edu or Brigitte Perry at brperry@ncsu.edu
Accommodation requests related to a disability should be made two weeks before the event to Lauren Dail (252) 902-1709 or lsdail2@ncsu.edu
---------------------------------------------------------
Please read the expectations and rules below. You will be asked to agree to these terms in your registration. If you do not agree, the child(ren) you are registering will not be able to participate in the program.
NORTH CAROLINA 4-H YOUTH DEVELOPMENT PROGRAM LIABILITY, ASSUMPTION OF RISK, PHOTO & MEDIA RELEASE, AND INDEMNIFICATION AGREEMENT
In consideration of NC State University allowing my minor child to participate in the North Carolina 4-H Program, (hereinafter "Program"), I, for myself and/or on behalf of the minor child listed below ("Minor"), agree as follows: I affirm and acknowledge that I am participating in the Program for my own personal benefit. I understand that I will participate in recreational and other activities as part of the Program and that such activities have inherent dangers and physical risks. I understand and acknowledge that the inherent dangers and physical risks involved in these activities are such that no amount of care, caution, instruction or expertise can completely eliminate them.
These dangers and risks include, but are not limited to, loss of or damage to personal property, strains, sprains, bruises, heat exhaustion, and other personal injuries, or even death, that could result from tripping, falling, contact with other individuals, and equipment failure, among other causes. I assume responsibility for all risks, known and unknown, involving my participation in the aforementioned activities, and I voluntarily authorize my participation in reliance upon my own judgment and knowledge of my experience and capabilities.
I represent that I am acting on my behalf or as the parent or legal guardian of the Minor and I have authority to enter this Agreement. I also represent that I am in proper physical and other condition to participate in the Program. I understand that it is my sole responsibility to determine whether I am sufficiently fit and healthy enough to participate in the Program, and if necessary, I will consult with my physician for appropriate guidance.
I hereby agree to indemnify and hold harmless NC State University and its trustees, officers, directors, employees and agents (the "Released Parties") from any liability, losses, costs, damages, claims or causes of action of any kind or nature whatsoever, and expenses, including attorneys' fees, arising from, resulting from, or relating in any way to my participation in the Program.
I further agree that if, despite this Agreement, anyone - on the Minor's behalf, makes a claim against any of the Released Parties, I will indemnify, defend and hold harmless each of the Released Parties from any liabilities which may be incurred as a result of such claim.I understand that I am required to be familiar with and abide by the Program's rules and regulations, including the 4-H Code of Conduct and/or the NC 4-H Volunteer Standard of Behavior and any safety regulations established for the benefit of all participants. I accept sole responsibility for the conduct and actions of the Minor while s/he is participating in the Program.
NC 4-H PHOTO/MEDIA RELEASE - YOU WILL HAVE THE OPTION TO 'OPT OUT' OF THIS IN YOUR REGISTRATION.
I do hereby agree to be photographed, audio or videotaped by the NC Cooperative Extension, 4-H Program, and NC State University. I further agree that my image or likeness in photographs, videos, or audio may be used for educational or promotional purposes, including posting on the Internet. I agree that the use herein may be without compensation to me. I hereby waive any right to inspect or approve the finished electronic, photograph, or printed matter that may be used in conjunction with them now or in the future. I am expressly releasing NC Cooperative Extension, North Carolina 4-H Youth Development, and NC State University, its agents, employees, licensees and assigns from any and all claims which I may have for invasion of privacy, right of publicity, defamation, copyright infringement, or any other causes of action arising out of the use, adaptation, reproduction, distribution, broadcast or exhibition of such recordings.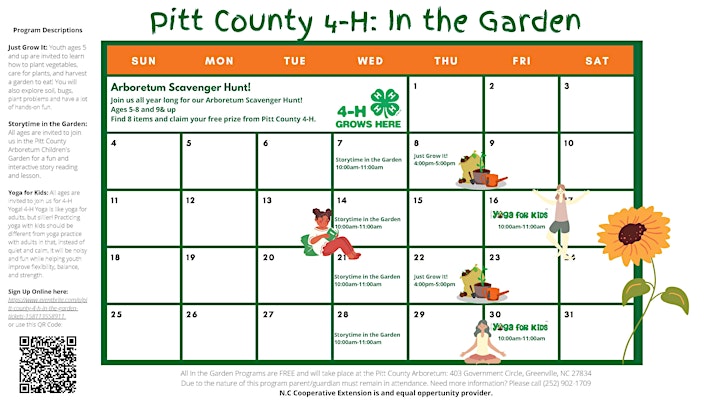 Organizer of Pitt County 4-H: In the Garden
---
NC State University and N.C. A&T State University work in tandem, along with federal, state and local governments, to form a strategic partnership called N.C. Cooperative Extension, which staffs local offices in all 100 counties and with the Eastern Band of Cherokee Indians.
Read our Privacy Statement
N.C. Cooperative Extension prohibits discrimination and harassment on the basis of race, color, national origin, age, sex (including pregnancy), disability, religion, sexual orientation, gender identity, and veteran status.
Individuals with disabilities are invited to request reasonable accommodations to participate in Extension sponsored programs and events. Please contact the county Extension office offering the program at least 14 days prior to the event to make arrangements.