PITCH/PORTFOLIO NIGHT & Meet-Up for Creative Professionals

Thursday, November 10, 2011 from 5:30 PM to 9:00 PM (PST)
Event Details
Present
PITCH/PORTFOLIO NIGHT & Meet-Up for Creative Professionals
WHEN: November 10, 2011, Thursday, 5:30-9:00pm

WHERE: Pigment Cosmetics, One Market Street, Suite 140 at Studio 2

Door Fee: Donation up to $5 or whatever you can afford
Beer by Trumer Pils, Pretzel by Pretzel Crisps, wine, soda and desserts provided.
A fashion focused digital consulting company with mobile & social tools along with a blogger network of top fashion professionals from every corner of the globe writing from inside the fashion industry to create brand awareness and help promote your brand.
Our social e-commerce solution is a 3 in 1 solution for fashion brands: Fcommerce, Mcommerce, Ecommerce. It is in English and Chinese and connects to Chinese social media networks. This product is perfect for small to medium brands looking to connect with Chinese social media and customers. Not only does it harness the power of Facebook fans, it works seamlessly together with our MobileMags solution. 

Abrot (pronounced AH-BRO-T) was founded upon the simple idea of sharing unique and high quality handbags. The name itself is the Polish word for bag, Torba, spelled backwards. Its founders, natives of Poland, would often travel home and bring back finely crafted handbags that could not be found in the United States. The showers of compliments around the bags made it clear that there had to be a way to share these European gems stateside. By working with highly skilled purse makers across Europe, Abrot selects handbags with an unparalleled look and feel that we want to share with you. There is a story behind each bag's inspiration. Enjoy learning about it. And the next time a friend compliments your Abrot bag, you can pass the story along.  
Emmanuel founded his Atelier as a place where craftsmanship would be accented in the art of beauty. Our goal is not only for you to leave looking and feeling good, but to retain that sense for weeks to come. Where other salons cut hair, we structure it, so that the style stands on its own, not on the use of a lot of hair products. We firmly uphold the standards of a boutique business: we maintain an atmosphere that is professional, yet approachable. Our hope is to wow you with our personable approach and expert services, not an elitist attitude. Clients often visit us just to spend a moment relaxing from work or shopping. To us, that is the best sign that we are creating the right environment. 
Gift and rewards cards management. Import plastic gift and rewards cards from over 500 merchants.SWAGG tracks your balances and organizes your cards with ease on your phone. SWAGG gifts lets you buy, send and swap digital gift cards from a growing list of participating merchants. SWAGG has partnered with thousands of merchants to help you get the most from your shopping experience. And we're always getting more brands on board. With SWAGG, you'll be up to date with hundreds of offers that you can use along with your SWAGG GIFT and rewards cards. In no time, your savings will be growing just as fast as our list of partners.
We started out as a group of independent designers trying to get exposure for our labels. We knew we couldn't do it alone so we started. Bitisi - By Design. Artists and designers in every industry from fashion designers, jewelry makers, shoe designers, handbag makers, sculptors, painters, or anyone who wants to sell their creative products are invited to join us. With Bitisi.com we are bringing together independent artists and designers from every medium across North America, Europe & Australia to do one thing, make ourselves VISIBLE to the world.
The resume is dead! The premise is: In the new millennium (The Digital Revolution), a resume is not enough anymore. Resumes lack connection. Electronic resumes are flooding employers because one person of no distinction can send out a resume to 5,000 companies tying up substantial resources and slowing the process of finding the right candidate. You have to deliver your message in a form that presents your individual proposition for working for the targeted company and presents your credentials in 1-Page. Resumes are being drowned-out by a hiring climate flooded by tons of meaningless resumes distributed to faceless companies through the Internet, thus creating a need for a new tool to get a job.
SewBitchy is vintage inspired and retro inspired clothing, accessories and handbags with attitude for women who have one! My ideas are a mix of eclectic vintage meets modern. I love using vintage fabrics and recycled clothing to create with. I scour flea markets and thrift stores to find the best fabrics and textiles to work with, ensuring you will always receive a unique piece!
Melinda Rodriguez is a San Francisco based independent jewelry designer who created her company "Little Feather" in 2006. Melinda was born and raised in Southern California, relocating to San Francisco in 1996. She worked at Piedmont Boutique, a custom-design costume shop on Haight Street, while she attended the Fashion Institute of Design & Merchandising (FIDM) receiving her AA in Fashion Design. After graduation she left the costume shop and switched gears to pursue a BA in Interior Architecture & Design at The Academy of Art University. In 2006, half way through her studies, Melinda began to develop "Little Feather."
Jennifer Bair, "JennBair," has led a varied career-life including author, business owner, educator, designer, artist manager and single mother. Jennifer has been an active participant in the struggle for women's equality. She is an ERA advocate and served as a campaign worker for Pat Shroeder, Vice Presidential candidate in 1984. Jennifer was also a contributor for the first women's shelter in the state of Vermont. She spoke at the Vermont State Senate on domestic violence/family-centered policy changes. Additionally, Jennifer was hired as a marketing/sales team member for Vermont Woman Publications.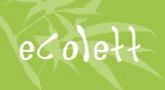 Ecolett.com is an eco-friendly online boutique, featuring affordable and stylish designer collections for the fashion-savvy women. At Ecolett.com we seek to build the best products with materials that are good for the environment.  We work hard to source the best materials and to use the proper processes. Green technology is still evolving and we realize our efforts are far from being perfect, but we try and make headway. We currently use the environmentally friendly fibers: organic cotton, hemp, Tencel (Lyocell), and plan to use the recycled fiber. The more customers demand ecological products, the more the industry demands responsible suppliers, the faster we clean up our planet, making green living the mainstream living. The choice is yours.
WHAT IS PORTFOLIO/PITCH NIGHT?
Portfolio/Pitch Night is a platform created for creative professionals. It is a networking event where attendees present their product pitches and/or share their portfolio with others in a show-and-tell format. See video here - http://youtu.be/IbLoWDD3Jb8
Industry Meetup for the creative professionals, fashion & arts, tech, mobile apps, non-profit, startups, entrepreneurs, online marketers, service providers and students. If you want to present your product (5-10 mins presentation) and want to be added to the evening's programme, or, if you have any questions, please email Owen Geronimo at press@fashiontechsf.com 
Each presenter is given about 10 minutes to present their pitch or portfolio. When presenting a portfolio, constructive criticism is given by the audience. It is a workshop environment where attendees are encouraged to brainstorm and share new ideas including career advises. Learn on a grassroots level and connect with guests who have the same goals and passion about their work in the arts and fashion industry. Brought to you by: San Francisco Fashion And Merchants Alliance, Inc @ http://sffamainc.org/ & Fashion+Tech SF @ http://fashionandtech.net/
SPONSORED BY:
PRESENTED BY: 
ABOUT FASHION+TECHSF:
FASHION + TECH SF (formerly known as Fashion Mash-Up) is San Francisco's longest running workshop combining 'business of fashion' and 'fashion and technology' formats. From it's inception in February 2010, Fashion+Tech SF's mission has been to provide an open dialogue that serves as a forum on how to develop innovative solutions to become better business entrepreneurs.
This workshop was developed as a platform to discuss the business of fashion and arts through the utilization of current business models and technologies. As a thriving epicenter of independent talents, 'FASHION+TECH SF" features local entrepreneurs, fashion designers, bloggers, retailers, startups & techies in an effort to brainstorm and share new business solutions to create an exchange network amongst peers in San Francisco's fashion and creative community. Presented By: San Francisco Fashion And Merchants Alliance, Inc.
When & Where

(FIDM) Fashion Institute of Design & Merchandising
55 Stockton Street
5th Floor, Conference Room
San Francisco, CA 94108


Thursday, November 10, 2011 from 5:30 PM to 9:00 PM (PST)
Add to my calendar
Organiser
FASHION+TECHSF is the popular original monthly workshop and event series focused on building, promoting, educating and funding the enthusiastic communities of fashion and technology entrepreneurs who share our vision of a world-class fashion and technology industry that is innovative, disruptive and uniquely San Francisco. Launched in 2009,
FASHION+TECHSF has become the leading network for all things fashion and technology in the SF Bay Area. FASHION+TECHSF is produced by Fashion Tech Media LLC and San Francisco Fashion And Merchants Alliance, Inc. [SFFAMA].
For marketing inquiries, media relations, publicity, product promotions, sponsorship opportunities and booking info...please email your inquiry to: info@fashiontechpr.com or visit: FashionTechPR.