Description
You have decided that raising funds from investors is the best option for your business. Now you need to get ready for it. How do you appeal to an investor? How do you connect at an emotional, rational, and financial level? In this workshop you will learn how to structure and deliver a successful pitch from seasoned investors and entrepreneurs.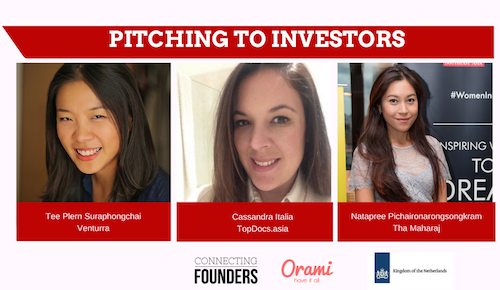 SPEAKERS:
Tee Plern Suraphongchai
Venturra
Tee is currently a Partner at Venturra – an early stage US$150M fund investing in SEA. She was previously at Ardent Capital, where she spent two years as Head of Ardent Ventures. Earlier in her career, Tee worked for Central Retail Corporation, Lehman Brothers New York, as well as launched Little Beast, an award-winning Bangkok-based restaurant.
She received her MBA from Stanford Graduate School of Business and her BA from Brown University.
---
Cassandra Italia
TopDocs.asia
Before Cassandra's journey as a serial entrepreneur and founder of the start-up TopDocs.asiashe initially began her career in forensic science, inspired by Clarice Starling from the movie Silence of the Lambs. She was destined to become a Crime Scene Investigator for the Australian Federal Police until she decided to take a backpacking trip around SE Asia alone, at 22 years of age.
It was during her travels in SE Asia that she discovered the booming 55 billion dollar a year medical tourism industry. She went back home and borrowed $10K from her parents to start up her first company, GlobalHealthTravel.com – a medical travel agency helping foreigners go abroad for medical treatment.
In 2013 she was offered $2M for 49% of her company under an acquisition by a well known Insurance company in Australia. The deal fell through and she became disenfranchised with the industry and instead started a nursing care company in Thailand called Healthcarehands.com that provides care & assistance for medical tourists and expats in Thailand.
In 2015 she saw other medical tourism startups getting funded but was adamant they didn't understand the market or fully get the business model and how to scale it. She started going to startup events to learn about tech and founded TopDocs.asia in June 2015 by digitising her knowledge and experience in the medical tourism industry.
In September 2015 she won Thailand's top startup at the worlds largest startup competition, SeedStarsWorld and in November was the first startup to be accepted into Amadeus Nextpropelling traveltech startups. She is currently in the process of raising seedfunding for her startup before embarking on her next journey in Silicon Valley to join the world renowned 500accelerator to take her startup to the next level and make her adopted country proud, but most importantly other female startup founders.
---
MODERATOR:
Natapree (Pim) Pichaironarongsongkram
Tha Maharaj & Supatra Real Estate
Natapree is a Managing Director of Supatra Real Estate Company Limited and an Executive Director in several of her family's companies. She assumes full responsibility for the development of the newly launched riverside retail, Tha Maharaj on the Chao Phraya river comprising over 12,000 sq.m. of retail space. She prepared financial studies and structured loan package for the project and helped value engineered its construction capital over the 18-month development period. She developed marketing strategies targeting foreign and local markets, to help bring greater economic support to the community. In 2012, she was responsible for the pre-opening of Riva Surya, a 68-room riverfront boutique hotel in Bangkok.
Natapree is currently working on the renovation of a retail project called Tha Wanglang, which is expected to launch at the end of 2016. She is also expanding her hotel arm into another riverfront location called Riva Arun, scheduled to open at the end of the year. On the side, Natapree assists with the research on the upgrade and remodelling of her family's Chao Phraya Express Boat company's fleets into all catamaran-fiberglass boats, to enhance fuel-efficiency, safety, and longterm cost savings.
Natapree received her B.S. in Hotel Administration from Cornell University and M.S. in Real Estate Development from Columbia University.
Date and Time
Location
Embassy of the Netherlands
5, Ton Son Alley, Lumphini, Pathum Wan
Bangkok, Krung Thep Maha Nakhon 10330
Thailand