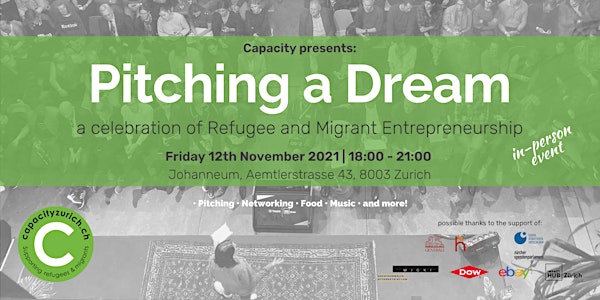 Pitching a Dream | A celebration of Refugee and Migrant Entrepreneurship
Pitching a Dream is our Capacity 2021 Entrepreneurship programme pitch and closing ceremony | 14 Migrapreneurs pitch their projects | Apero
When and where
Location
Johanneum 43a Aemtlerstrasse 8003 Zürich Switzerland
About this event
***Deutsch unten***
You are cordially invited to join our Capacity team and community to join us in attending Pitching a Dream: a Celebration of Refugee and Migrant Entrepreneurship.
2021 has been a year of carefully yet courageously stepping forward into a world that has been forever changed by the impact of COVID-19. It has been a year of profound resilience, and above all, of discovering that our hope can be stronger than our fears.
In this spirit of determined dreaming, we invite our community to gather together in support of our Capacity 2021 Entrepreneurs, who will be sharing their one-minute startup pitches with all of you!
This year, our chosen theme is Emerge. As we experience a collective reemergence from quarantine, so too have our Entrepreneurs chosen to let their unique and creative ideas emerge from concepts into active initiatives. Neither is easy - but together, we can find the courage to do both.
We are incredibly excited to welcome Claire Murigande as our keynote speaker and alumna Claudia Masika for music and more.
If you are curious about our work at Capacity, the best introduction to our world is through the stories of our entrepreneurs. Fourteen brilliant entrepreneurs will present their companies, socio-cultural projects and ideas in an elevator pitch. Afterward, we will be enjoying an apero by Afghan Laziz and you will have the opportunity to give feedback and post your questions to our entrepreneurs and get in touch with the entrepreneurs you want to support further.
The agenda of the event is as follows:
- Opening: Musical performance.
- Introduction to Capacity
- Pitch Party: 14 elevator pitches from our Migrapreneurs
- Feedback session and Q&A
- Apero with snacks and drinks
- Au revoir
Please note that your COVID certificate will be checked and that we will comply with the safety measures from the Johanneum which require our audience to wear masks at all times unless eating, sitting or speaking on stage. Let's keep each other safe!
***Suggested donation amounts for this event (20 CHF, 50 CHF or 100 CHF) - https://www.capacityzurich.ch/donate/ ***
Our work is made possible because of the generosity of our community. Please consider making a donation to our organisation in order to give more entrepreneurs access to subsidised entrepreneurial education.
***DE***
Wir laden Euch herzlich ein, zusammen mit unserem Capacity-Team und unserer Community an der Veranstaltung "Pitching a Dream": Ein Anlass zum Feiern des Entrepreneurship von Geflüchteten und Migrant:innen teilzunehmen.
2021 war ein Jahr des vorsichtigen und zugleich mutigen Aufbruchs in eine Welt, die durch die Auswirkungen von COVID-19 für immer verändert worden ist. Es war ein Jahr, in dem wir uns als besonders widerstandsfähig erwiesen und vor allem die Erfahrung gemacht haben, dass unsere Hoffnung stärker sein kann als unsere Ängste.
Im Sinne dieses mutigen Träumens laden wir unsere Gemeinschaft ein, zusammenzukommen und unsere Capacity 2021 Entrepreneurs zu unterstützen, die ihre einminütigen Startup-Pitches mit Euch allen teilen werden!
Unser diesjähriges Thema ist "Emerge". So wie wir uns gemeinsam aus der Quarantäne wiederauftauchen, haben sich auch unsere Entrepreneure dazu entschlossen, ihre einzigartigen und kreativen Ideen von Konzepten zu aktiven Initiativen zu machen. Keiner von beiden ist einfach - aber gemeinsam können wir den Mut finden, beides zu tun.
An diesem Event werden wir mit Claire Murigande als Keynote-Speakerin und Alumna Claudia Masika für Musik und viel mehr rechnen können.
Wenn Eure Interesse an unserer Arbeit bei Capacity geweckt wurde, ist die beste Einführung in unsere Welt die Geschichte unserer Entrepreneurs. Vierzehn brillante Entrepreneurs werden ihre Unternehmen, soziokulturellen Projekte und Ideen in einem Elevator Pitch vorstellen. Im Anschluss gibt es einen Apéro von Afghan Laziz zu geniessen und Ihr habt die Möglichkeit, Feedback zu geben, Eure Fragen an unsere Entrepreneure zu stellen und mit den Entrepreneuren in Kontakt zu treten, die Ihr weiter unterstützen wollt.
Das Abendprogramm der Veranstaltung sieht wie folgt aus
- Eröffnung: Musikalische Einlage.
- Einführung zu Capacity.
- Pitch-Party: 14 Elevator Pitches von unseren Migrapreneuren
- Feedback-Sitzung und Q&A
- Apero mit Snacks und Getränken
- Auf Wiedersehen
Bitte beachte, dass Dein COVID-Zertifikat überprüft wird und dass wir die Sicherheitsvorschriften des Johanneums einhalten werden, die vorschreiben, dass unser Publikum immer Masken tragen muss, wenn es nicht isst, sitzt oder auf der Bühne spricht. Lasst uns einander schützen!
***Vorgeschlagene Spendenbeträge für diese Veranstaltung (20 CHF, 50 CHF oder 100 CHF) - https://www.capacityzurich.ch/de/spenden/ ***
Unsere Arbeit wird durch die Grosszügigkeit unserer Gemeinschaft ermöglicht. Dank einer Spende an unsere Organisation können wir mehr Entrepreneurs den Zugang zu einer subventionierten unternehmerischen Ausbildung ermöglichen.