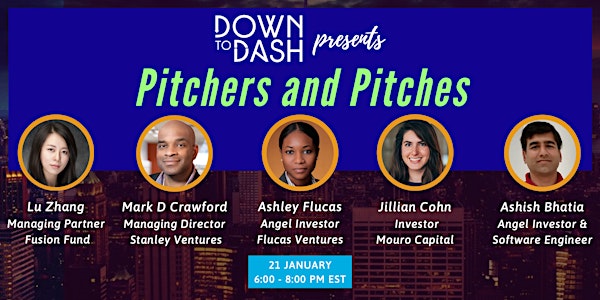 Pitchers and Pitches
Grab a cocktail and pitch your startup to our all-star panel and get private feedback too.
When and where
Date and time
Thursday, January 21, 2021 · 3 - 5pm PST
Refund Policy
Contact the organizer to request a refund.
Eventbrite's fee is nonrefundable.
About this event
You can also join us to watch the event and network with our startups and VCs.
Panelists:
1. Lu Zhang - Founder & Managing Partner, Fusion Fund
Lu Zhang is the Founder and Managing Partner of Fusion Fund, a renowned Silicon Valley based investor, a serial entrepreneur and a Stanford Engineering alumna. Fusion Fund is active in supporting early-stage entrepreneurs who are looking to build globally disruptive companies using innovative technologies to drive systemic change originating from the U.S market. For the past couple of years, Lu leads the Fusion Fund team funnels exits of multiple portfolios' IPO and M&As.
Lu received the title of 2018 Young Global Leader by the World Economic Forum (Davos). She has also garnered other accolades including the Featured Honoree in VC of Forbes 30 Under 30 (2017), Silicon Valley Women of Influence (2018), Town & Country 50 Modern Swans – Entrepreneurship Influencer (2017) and Top 10 All America Chinese Youth (2018). Prior to starting Fusion Fund, Lu was the Founder and CEO of a medical device company focused on non-invasive technology for the early diagnosis of Type II diabetes (acquired in 2012).  
Lu is active in the entrepreneur and investor communities and serves as a board member and 2020 president for Youth Council of Future Forum.
2. Mark D Crawford - Managing Director at Stanley Ventures
Mark has invested capital in all stages of the corporate lifecycle - from seed to mature. He has been involved in seed, growth, buyout, distressed, and recap situations at the Associate, Vice President, and Director levels.
Mark is a Managing Director at STANLEY Ventures and is based in Sunnyvale, California. He is responsible for bring technology and innovation to Stanley Black & Decker and leading the corporate venture capital practice in the Silicon Valley region. Prior to his tenure at STANLEY Ventures, Mark worked at Intel Capital, the venture capital arm of Intel Corporation.
Previously, Mark led a venture capital firm investing in early-stage technology companies based in the Midwest. In addition, he worked at an investment fund focused on the manufacturing, B2C, government contracting, and logistics sectors.
Mark currently serves on the Boards of Fort Robotics, FreeWire, Occo, and Hansen Mueller.
3. Ashley Flucas - Angel Investor at Flucas Ventures, Run a syndicate on Angellist.
South Florida-based. General counsel/partner at a real estate finance fund (infrastructure, sports arenas and large-scale condo, apartment and commercial buildings) with ~ $3B AUM (LPs are overseas HNWIs). We also own and operate several real estate developments (i.e., Nassau Coliseum in NY). I also run a syndicate on Angellist. Investing: 130+ investments to date.
Deals syndicated in last 6 months: Turing, Pico, Treasure, MotoRefi, Flat, Hungry, Bungalow, Foodology, S'More, Chiper, Hellometer, SafeStamp, Talkshoplive, Nguyen Coffee Supply, Tiliter and Badaboom
4. Jillian Cohn - Investor at Mouro Capital
Jillian is an investor at Mouro Capital where she focuses on early and growth stage investments in fintechs across the US and Latin America. Prior to joining Mouro, she worked as a fintech investor at Santander InnoVentures. She also has experience in impact investing both at Goldman Sachs and at the International Finance Corporation, the private investment arm of The World Bank. She started her career in investment banking at a boutique M&A advisory firm. She has an MBA from Harvard Business School and a BA and BS from University of Pennsylvania and The Wharton School
5. Ashish Bhatia - Angel Investor and Software Engineer (ex-WhatsApp, ex-Google)
Ashish has made several angel investments in startups since 2014. IntelliVision, acquired by Nortek. Authy, acquired by Twilio. Cirrosecure, acquired by Palo Alto Networks. Minjar, acquired by Nutanix. MakeLeaps acquired by Ricoh. Strikedeck acquired by Medallia. Verbling acquired by Busuu. He is part of the Board of Advisors of Joveo as a technical advisor. He was a judge and a panelist at Venture Summit West 2019, Startup Battle 144, Startup Battle 152, Private Investor Summit 2019, Startup Battle AI 224 and Pitch Global pitching events. He blogs about security, books, and programming at https://ashishb.net.
Ashish holds technical advisory roles at multiple startups, Joveo (San Francisco), Replai (Berlin), Wemby (London), and Stylework (New Delhi).
About the organizer
DownToDash is an app to make quality activity buddies. We connect people in the same location based on what you are interested in doing, whether it's workouts, sports, movies or other activities. We curate personalized experiences for you every week, based on your availability and location.