Description
Come join The Alumni Group for the perfect brunch and day party experience. This event is not just perfect, it's "Pitcher Perfect"! At the Pitcher Perfect brunch and day party, our pitchers are never, ever empty. For just $25, you can enjoy bottomless brunch cocktails for an hour and a half to complement your delicious brunch entree. So, move alllll the way on up to the East Side, join us at Barlovento... and let's eat, mingle, and get tipsy together!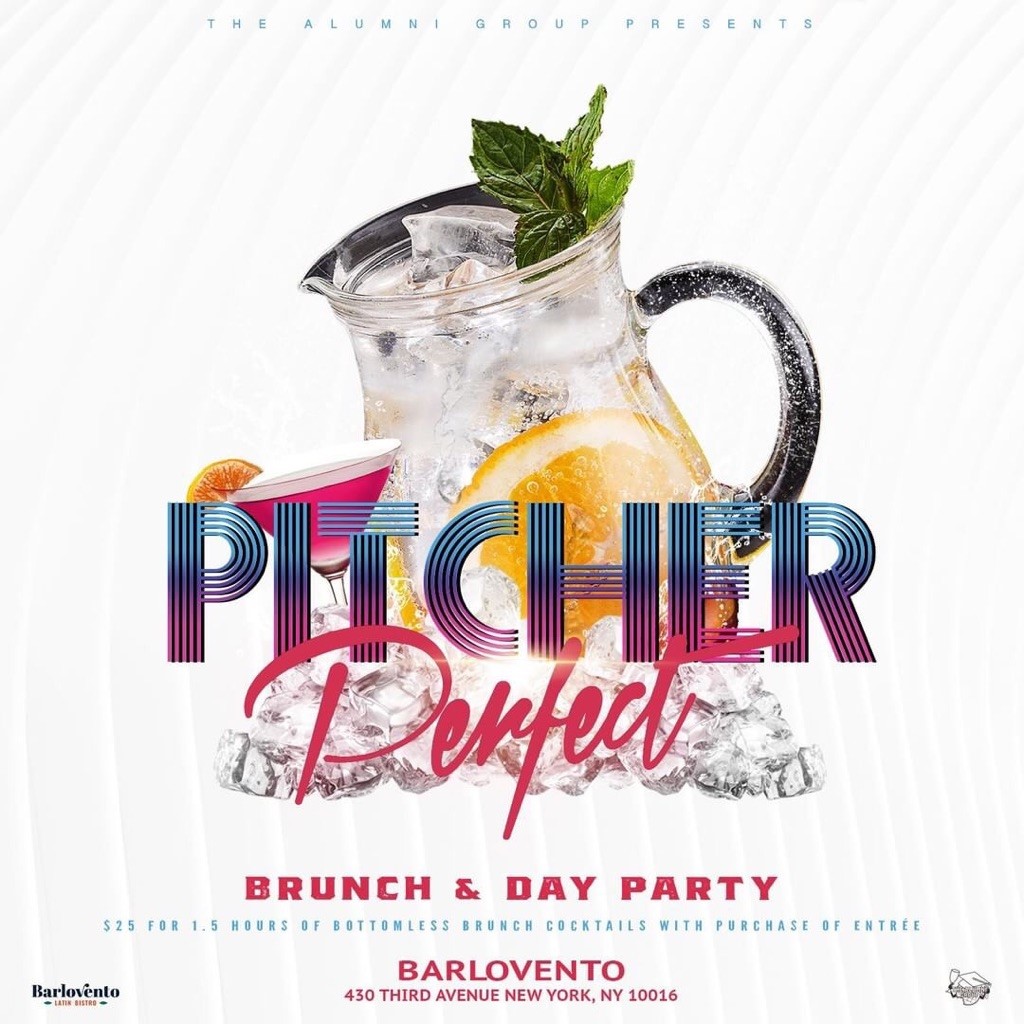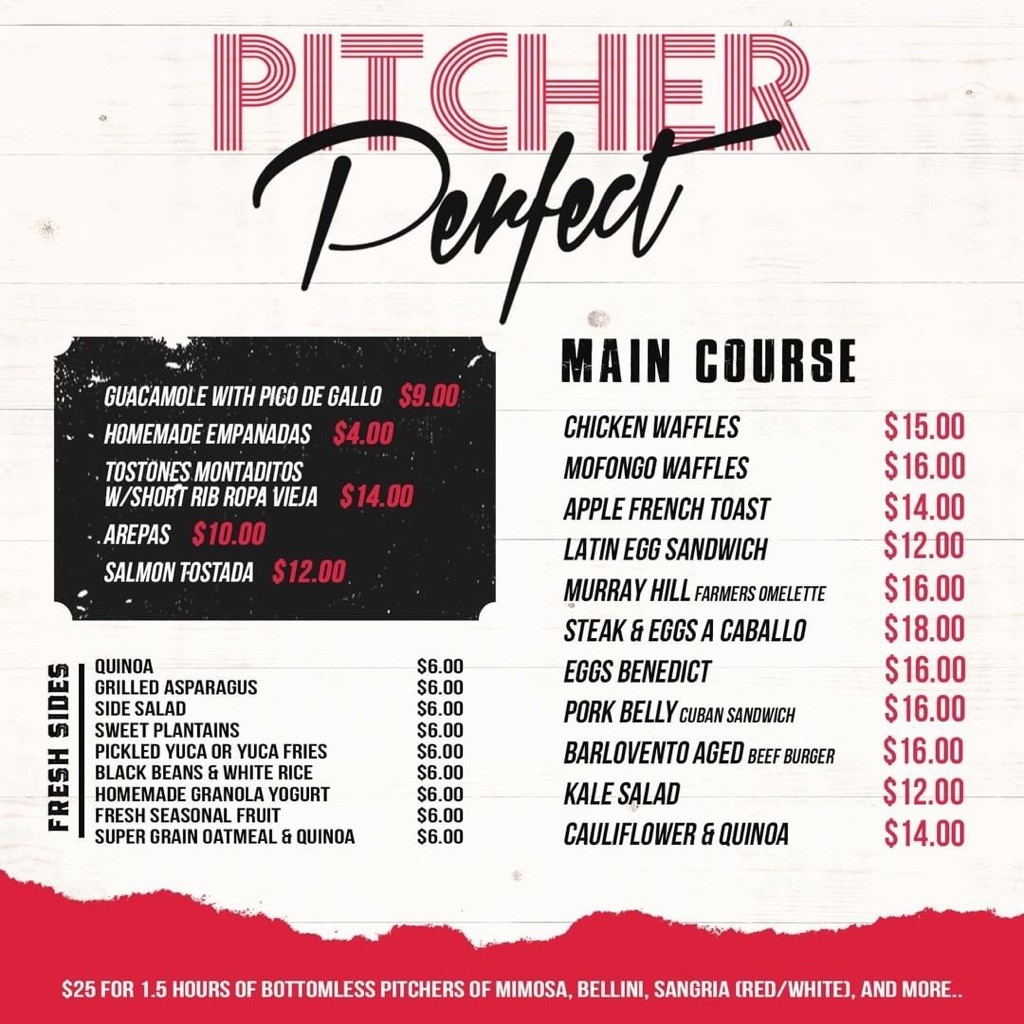 *RSVP Does not guarantee seating. Please call the restaurant directly for reservations*
**Brunch is to be paid to your server at the conclusion of brunch*
$25 for 1.5 hours of bottomless pitchers of Mimosa, Bellini, Sangria (Red/White), and More...
Guacamole With Pico De Gallo $9.00
Plantain and Yuca Chips
Homemade Empanadas $4.00
(Available Gluten Free and Vegan) Choice: Beef, Chicken, Shrimp, Cheese, Veggie
Tostones Montaditos w/Short Rib Ropa Vieja $14.00
4 Fried Green Plantains topped w/Shredded beef short rib.
Arepas $10.00
Choice: Serrano & Swiss w Garlic mustard OR Mozzarella Red wine infused Tomato Salsa
Salmon Tostada $12.00
Salmon, Soy, Lime, Pineapple sesame seed.
MAIN COURSE
Chicken Waffles $15.00
Panko Fried Chicken Breast, Homemade Waffles, Maple Syrup, Fresh Seasonal Fruit
Mofongo Waffles $16
Served w/agave glazed pork belly, cilantro butter & Maple syrup.
Apple French toast $14
French Toast with Apple & Orange Compote
Latin Egg Sandwich $12.00
Scrambled egg, Yuca, Mozzarella on toasted French Bread
Murray Hill Farmers Omelette $16.00
Chorizo, Sauteed onions & kale with Swiss Cheese.
Steak & Eggs A Caballo $18.00
Flank steak in a verde caramelized onion, jalapeno sauce topped w/a sunny side up egg
Eggs Benedict $16.00
Served w/Crispy tostones, serrano ham, swiss cheese & jalapeno hollandaise sauce.
Pork Belly Cuban Sandwich $16.00
Pressed French Bread, Made with mojo pork, agave glazed pork belly, swiss cheese, garlic mustard and housemade pickles.
Barlovento Aged Beef Burger $16.00
Special blend mouthwatering aged Beef topped with swiss cheese and Guava glazed smoked applewood bacon, garlic mustard on a Brioche Bun & House made Pickle.
Kale Salad $12.00
Baby Kale, cherry tomatoes, baby currants, cucumbers and macaroon almonds served with a Brown sugar balsamic dressing.
Cauliflower & Quinoa $14
Roasted Cauliflower, Charred corn, Quinoa in a citrus dressing
FRESH SIDES
Quinoa $6.00
Grilled Asparagus $6.00
Side Salad $6.00
Sweet Plantains $6.00
Pickled Yuca OR Yuca Fries $6.00
Black Beans & White Rice $6.00
Homemade Granola Yogurt $6.00
Fresh Seasonal Fruit $6.00
Super Grain Oatmeal & Quinoa $6.00
with chia seed & flax