Description
Introduction
You have brilliant ideas and innovative products, yet when you speak and pitch your story you couldn't even get and keep the attention from the investors. They not only have difficulty understanding your concept and your products, but couldn't feel your passion for what you do. It's not just what you say, but how you say it. To command attention, convey your passion and persuade people into action, you can not overlook this powerful tool, your voice.
In this session, you'll learn practical tools to develop a voice that speaks clarity, confidence and conviction.
What will you learn?
Project a clear, confident and convincing voice

Build your vocal presence to sound more polished and powerful

Improve your voice that sounds composed under stress & nervousness

Command attention with a fuller & deeper voice

Speak with passion & conviction and make what you say count
Registration
Purchase your ticket here
Noted: Please click on the registration link above for payment;
Speaker: Cynthia Zhai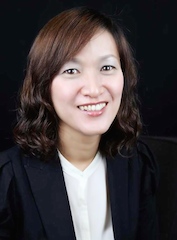 Cynthia is a Voice Coach, Speaker and Author of the book Influence through Voice published by McGraw Hill. She has helped Senior Executives, professionals and start-up entrepreneurs with their voice and speeches to speak with impact and conviction, engages and inspires people to embrace change and take action.
Leaders Cynthia has worked with include CEO of TriOptima Asia Pacific, CFO of LEONI Asia, President for North Asia of K & N, Vice President of SingTel, Senior Vice President of HSBC China, Managing Director of EFG Bank, Associate Director of Barclays Bank, Director of Quality Service from Media Development Authority, Director of Communications from Singapore Tourism Board, Commander from Singapore Air Force and many more.
Cynthia has worked with clients from 35 countries across 5 continents, including USA, Australia, France, UK, Netherlands, Germany, Singapore, Switzerland, Norway, Indonesia, India, South Africa, Argentina and many more.
Cynthia's experience and her professionalism and effectiveness has made tangible results for clients, not only in the way they project their influential and convincing voice, but in leading teams and negotiating with customers.
Cynthia has been a professional speaker and coach for the past 14 years and her engagement spans U.S., Singapore, Malaysia, Hong Kong, Macau, mainland China, India & Brunei. She has appeared in Singapore Radio Program 938Live 3 times, Hong Kong Radio 3, and Malaysia Business Radio Station BFM, as a guest speaker on the subject of Voice.
Cynthia has spoken to more than 5,000 audience members across industries, from the world's top MNCs as Google Asia Pacific, HSBC Singapore, Procter & Gamble International Operations Southeast Asia Singapore Branch, to Government bodies as British High Commission Singapore, Singapore Air Force.
Cynthia is a keynote speaker for many regional conferences, including HR Congress, Women's Summit, Regional annual conferences for established clients as OliverWyman, Chevron and many more.