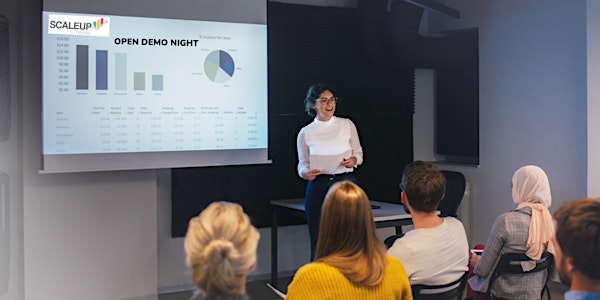 Multiple dates
Pitch Your Startup to an Silicon Valley Investor
Pitch your startup to Angel Investors and get feedback from the startup community.
By ScaleupStream - Startup and Entrepreneur Events
Date and time
September 20, 2021 · 7pm - December 18 · 7pm PDT
About this event
This is a FREE online event. Participation is 100% online.
https://scaleupstream.com/events - Use this link to officially register for the Demo Night.
Your ability to present your business case confidently and clearly is critical for acquiring funding, creating partnerships and building your team. This platform will allow you to pitch or listen to others pitch their startups. Whether you pitch or listen, you'll have the opportunity to hear the guidance and discussions from a Silicon Valley Startup expert. This is a great opportunity to practice your pitch, get constructive feedback and guidance about how to position yourself best for investors.
Since this is a public forum do not ask for any funding or discuss your use of funds.
Startups that meet the criteria will be invited to pitch at our "Formal Investor Presentations", which is a private pitch event to investors where you will be able to discuss funding.
Agenda:
1. Opening Comments: Guidelines and Format
2. Pitches - (To sign up to pitch, email marketing@scaleupstream.com with a brief introduction of your startup and the date of event you'd like to pitch at.)
3. Open Q&A
About the Host:
Gary Jinks is the Founder and Managing Director of South Valley Angels and an executive level leader with deep expertise and an extensive track record developing high yield innovation ecosystems and building up high growth exit focused start-up ventures. Gary has created, transformed and launched innovation in the Silicon Valley his entire career, from combat vehicles to lifestyle apps. Gary founded GLJ Group in 2005 and has led engineering, strategic direction and, business development for corporate clients resulting in over $300M in new business. In 2010 he shifted complete focus to the Startup community, advising over 400 Startups, working with the top incubators and investors in the Silicon Valley, launching innovation centers and developing regional ecosystems around the globe. He is a regular speaker, evangelist and lead executive advisor helping clients formulate custom strategies and implementation of the next evolution of the Startup Model, "Precision Innovation". He is currently the CEO of ScaleupStream, an innovation platform that helps startups get connected with resources and investors.
We will occasionally have other Angel Investors in our network host this event.
About the organizer
Whether you are preparing for funding, looking for resources to build your startup or simply need education, this is the community for all entrepreneurs. Feel free to join any of our startup and entrepreneur events on ScaleupStream..