Event Information
Refund policy
Contact the organizer to request a refund.
Eventbrite's fee is nonrefundable.
Are you looking for more capital and funding options to keep your business going or grow your business? Pitch your business to earn $10K!
About this event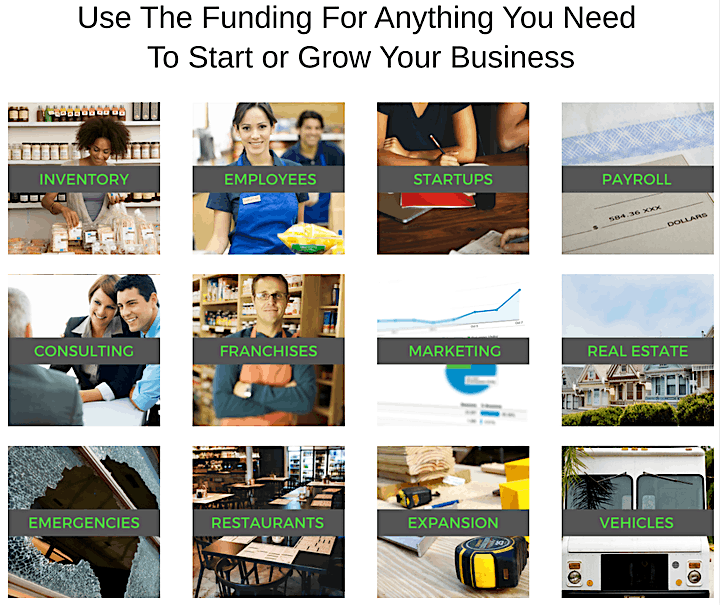 Are you looking for more capital and funding options to keep your business going or grow your business? Pitch your business to earn $10K!
In this pitching masterclass, we will be pulling back the curtain to empower entrepreneurs and business owner with the best funding options, finance education, qualifying formulas, and access to proven lenders with an opportunity to pitch their business on the spot and get feedback + additional resources before applying for funding.
Our FLP Fund Partners and team members have helped secure well over $150 million in funding for clients, pre and during the pandemic. We are laser focused on providing the most effective and creative financing solutions to propel new and experienced entrepreneurs to incredible levels of success.
In this masterclass hosted Shatoyia Jones, First Ladies of Poverty (FLP) Foundation, Founder and CEO, you will learn...
...how to create and refine your business plan, investor deck, pitch deck and improve your credit score.
...what investors are looking for.
...what you could do to position your company in a way to securing multiple types of funding.
...Get matched with additional resources and mentorship for creating / refining your business plan, investor and pitch deck, improving your credit score and more
...how to pitch your business on the spot and get access to applicable scholarship, grant and funding program.
...how to earn a minimum of $10K in funding with our FLP Fund.
You will also be able to get expert feedback on your pitch and determination if your business would be a great fit for our FLP Fund, as well as get matched to other alternative funding sources for you.
FLP Fund Partners help entrepreneurs, start-ups, small business owners and real-estate investors secure the best capital / funding (unsecured loans, secure loans, special licensing industry loans) and lowest available interest rates they can qualify for in conjunction with providing the necessary education to help you master your future business' growth and success (i.e. credit repair and building), guaranteed.
Minimum Funding Secured Per Business Owner: $10,000
Ready. Set. Pitch. - Get 5 Minutes to Pitch Your Business to FLP Fund Partners
ABOUT FIRST LADIES OF POVERTY FOUNDATION
With over 400 free consultations, 1.5K new and seasoned BIPOC and ally entrepreneurs and investors supported in building generational wealth, over 1.9 million given in community development initiatives with over 200 community development initiatives implemented with 6 awards and multiple locations around the U.S., our programming at First Ladies of Poverty Foundation has proven to be a game-changer for the thousands who have attained financial mobility, a higher quality of living and a custom generational wealth blueprint.
Ultimately, our goal is to provide entrepreneurship, investing and wealth building programming that is relevant to the 21st century and levels the playing field for attaining financial mobility and a higher quality of living, as well as generational wealth building.
Date and time
Location
Refund policy
Contact the organizer to request a refund.
Eventbrite's fee is nonrefundable.
Organizer of Pitch Your Business & Earn a $10,000 Business Grant or Loan
GENERATIONAL POVERTY ENDS HERE.
A Community Center & Resource Hub Providing Award-Winning Entrepreneurship, Business & Investing Trade Programs For First Generation Wealth Builders
Are you the first (or one of the few) in your family to start building wealth or thinking about the process of building wealth?
First generation wealth builders (FGWBs) and second generation wealth builders (SGWBs) are terms popularized by our Founder and CEO Shatoyia Jones to describe individuals in two different circumstances of building wealth. First generation wealth builders are individuals who have no financial inheritance, no inherited assets and are the first in their family to start and continue the process to building generational wealth in their families. FGWBs are usually starting with a net worth of $0 or even less in some cases and/or are living a paycheck-to-paycheck lifestyle. They are looking to improve their financial situation and leave a legacy for their loved ones. SGWBs usually have some financial inheritance or some type of inherited assets but don't know how to manage, sustain or grow their inheritance and are looking to learn how to do so.
Relevant, accessible, and engaging, our weekly masterclasses include but are not limited: to all things financial literacy, planning and management, business and entrepreneurship, investing and wealth building, retirement and estate planning. Browse our curated list of premium masterclasses and jump-start your journey to generational wealth building today no matter what stage you are in--starting where you are with what you have.
Learn More: https://youtube.com/playlist?list=PL3XubfvOj6g3oyqZNJpF9ogaoEBk8rasU
The 5 Stages to Building Generational Wealth with Little to No Money: https://www.firstladiesofpovertyfoundation.org/watch/the-5-stages-to-building-generational-wealth-starting-with-little-to-no-money
Our Programs*
*online and offline programming available, updated every 3 months
Schedule a virtual appointment to speak with one of our representatives about starting or continuing your business and wealth building journey today!
For partners, sponsors or other business inquiries: firstladiesofpovertyfoundation@gmail.com