Welcome to the leading virtual investor Pitch in Silicon Valley which is attended by 15-30 investors
About this Event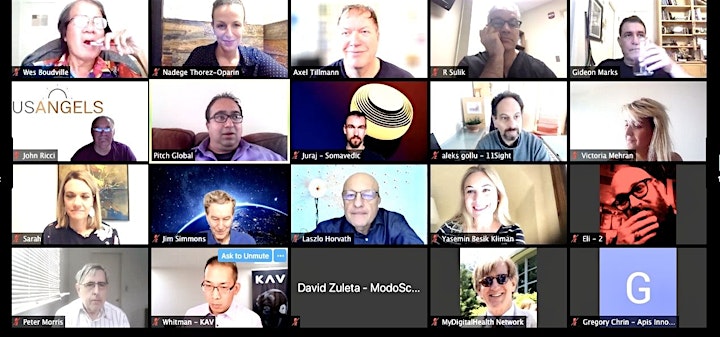 The above picture from our monthly UC Berkeley Global co-hosted event+ the quote below should give you an idea of what kind of investors you can meet at a Pitch Global virtual investor event every month;. We usually have 10 featured investors and another 15-20 unfeatured ones from thousands of investors in our network.
The deadline for application is 18 March 2021.
*Since there is heavy demand from global entrepreneurs for this online Pitch event series, we reserve the right to move you to the next event just in case this event fills up*
"Another warm thanks to Gideon Marks( took 3 Israeli cos public on NASDAQ) for being our keynote speaker as well as our investor-judges for participating and sharing their crucial feedback, perspective, and insight. A special thanks to Steve Tsai (IPO Group), Peter Morris, MBA, CPA (Wharton Angels), John Ricci (Founder US Angels+Keiretsu Forum+Harvard Business Angels), Jim Hurd (early Keiretsu member+global connector ), Jim Simmons(Simmons Goodspeed VC+Co-chair Caltech Angels), Laszlo Horvath(Managing Partner Vespucci Partners+EU Funding), Farnaz Victoria Mehran (Expert Dojo LA—active investor in our events), Yasemin Kliman (co-chair Harvard Business Angels), Gideon and Axel (CEO Pitch Global Innovation) for mentoring the startups after the event " -----Nadege Thorez, Director International Custom Program, UC Berkeley Global
The following article captures why funding has gone up at Pitch Global in the pandemic era. In virtual events, the role of the Event Hosts who matches you to the right investors, become crucial, so do read the background of our Hosts, KC Wisdom (Founder PG), Axel Tillmann (CEO PG Innovation+ former US CEO of fund of funds) & Dr Fred Cohen, Founding President of Keiretsu Forum(Pebble Beach chapter) www.wtnzfox43.com/story/42550030/pitch-global-has-taken-online-funding-to-a-whole-new-level-by-attracting-venture-capital-arms-of-large-corporations-matching-global-entrepreneurs-with-investors-to-their-existing-network
If you are a global entrepreneur and want to Pitch to some of the most well connected Investors in the Silicon Valley eco system via zoom, here is your chance.
AGENDA
9:0 AM to 9:10 AM: Opening remarks from UC Berkeley Global and Pitch Global.
9.10 AM to 9:30 AM : There will be a keynote by R. Paul Singh, Board Member of TIE Silicon Valley and Founder/CEO of 5 startups with one IPO and 3 M&A on How to Scale your Startup
www.linkedin.com/in/rpaulsingh/
9.30 - 9.45 AM: Introductions of featured judges.
9.45 - 11.30 : Global Startups Pitch to 20 + investors.
11.30 - Noon: Private Mentoring
Instructions:
Step 1: We will connect you with someone from UC Berkeley SF Campus's Marketing team (or an alternate contact) at the beginning of the week who will make sure that the zoom connection between your laptop and our System is working.
Step 2: We will allocate you a 8 minutes slot between 9.30 pm to noon PST
Step 3: We will mention your company's name and info in our mailing lists which is read by thousands of investors and Mentors. All the investors & Mentors in these lists will receive your contacts and we hope that those interested will get in touch with you directly.
Please click the link below to join the webinar:
https://berkeley.zoom.us/j/99157347751
Or iPhone one-tap :
US: +16699006833,,99157347751# or +12133388477,,99157347751#
Or Telephone:
Dial(for higher quality, dial a number based on your current location):
US: +1 669 900 6833 or +1 213 338 8477 or +1 669 219 2599 or +1 971 247 1195 or +1 206 337 9723 or +1 253 215 8782 or +1 346 248 7799 or +1 602 753 0140 or +1 720 928 9299 or +1 646 518 9805 or +1 646 558 8656 or +1 651 372 8299 or +1 786 635 1003 or +1 267 831 0333 or +1 301 715 8592 or +1 312 626 6799 or +1 470 250 9358 or +1 470 381 2552
Webinar ID: 991 5734 7751
International numbers available: https://berkeley.zoom.us/u/aefAu6ocJU
Or an H.323/SIP room system:
H.323:
162.255.37.11 (US West)
162.255.36.11 (US East)
221.122.88.195 (China)
115.114.131.7 (India Mumbai)
115.114.115.7 (India Hyderabad)
213.19.144.110 (Amsterdam Netherlands)
213.244.140.110 (Germany)
103.122.166.55 (Australia Sydney)
103.122.167.55 (Australia Melbourne)
209.9.211.110 (Hong Kong SAR)
149.137.40.110 (Singapore)
64.211.144.160 (Brazil)
69.174.57.160 (Canada Toronto)
65.39.152.160 (Canada Vancouver)
207.226.132.110 (Japan Tokyo)
149.137.24.110 (Japan Osaka)
Meeting ID: 991 5734 7751
SIP: 99157347751@zoomcrc.com
Refund Policy: Credit may be provided for a future event at the discretion of the organizer
Any questions please write to : startups@pitchglobal.com
OUR CO-HOST