Pitch to roomful of Silicon Valley investors+ Meetings @Sahara, Vegas
Pitch to roomful of Silicon Valley investors at Casbar Lounge, Hotel Sahara Vegas - 15 min walk/1 monorail stop from Convention Center
When and where
Location
CASBAR Lounge 2535 South Las Vegas Boulevard Las Vegas, NV 89109
Refund Policy
Refunds up to 30 days before event
Eventbrite's fee is nonrefundable.
About this event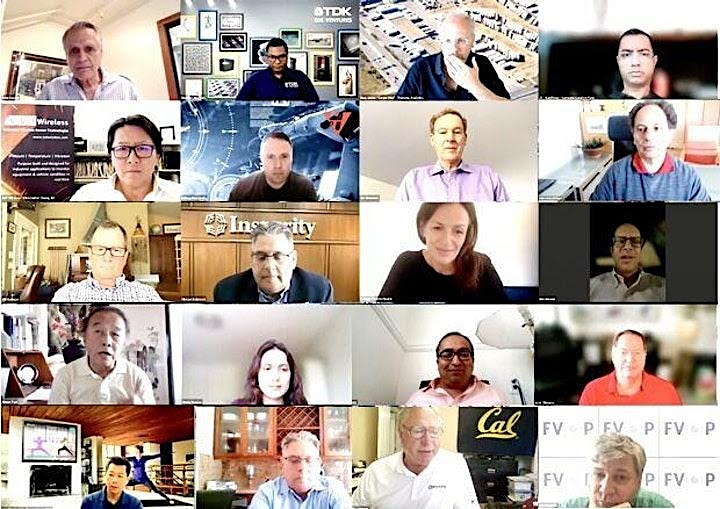 The above picture from our monthly UC Berkeley Global co-hosted event+ the quote below should give you an idea of what kind of investors you can meet at a Pitch Global virtual investor event every month;. We usually have 10 featured investors and another 15-20 unfeatured ones from thousands of investors in our network.
Berkeley Global and UC Berkeley Extension are thrilled to have hosted the 6th live online Pitch Global event of 2021 last Friday. A warm thanks to Kaustav Chaudhuri (KC Wisdom) & Axel Tillmann for this great event! Another warm thanks to Benjamin (BΞN) Narasin, General Partner –(who just spun out Tenacity Venture Capital with backing from leading VC firm NEA where he was long term Partner), for sharing so much with us, as well as our investors-judges-mentors for sharing their feedback, perspectives, & insight & for mentoring the startups after the event: Andrew Maywah (TDK Ventures), Sheila Proeve(Stanford Angels″ Row Ventures), John Ricci(US Angels+Harvard Angels+Keiretsu Forum), Steve Tsai (IPO Group), Nathan Pascarella(Hypertherm Ventures), Jonathan "JC" Charles (Samsung Catalyst Fund), Jim Simmons(Caltech Angels+Simmons Goodspeed VC) , & again, Ben, KC and Axel. Congrats Cargo Chief (Russell Jones), Telemetrak (Erik Eklund), 11Sight (Aleks Gollu), Moby Corp (Bill Kallman), Koopid (Venkatesh Krishnaswamy), SST Wireless Inc. (Christopher Chong), TuringSense (Joe Chamdani), Insynctive, Inc. (Gary Goldstein), Nanovista Inc. (Anton Neschadim), AirLocker (Tom Corder) and ForwardVue Pharma (Alan Franklin).
-----Nadege Thorez, Director of Custom Programs, UC Berkeley Global.
Pitch Global is also a satellite of US Govt agency in Silicon Valley (see more details at pitchglobal.com including $ 50 m fundraised by our top 10 cos In recent calendar year) and if you present at this event, you will get pre-qualified to receive US Govt funded Mentoring, Grant Advisory etc if you decide to move to Silicon Valley.
Agenda:
6.00—6.15 pm Registration& Opening remarks.
6.15 –6.25 pm: Investor intros. We expect 15-20 investors from Silicon Valley like Laszlo H, Managing Partner Vespucci Partners, Sasha J. Co-founded Draper VTB Fund with Tim Draper and VTB Bank, Deborah M. Director of IBM Ventures, Axel T. –fmr US CEO of fund of funds, Connie H, Head of Keiretsu Forum SOCAL and other active members of the Pitch Global Network.
6.25 --7.45 pm: Founders present to a roomful of Silicon Valley investors.
7.45 – 8 pm: Every presenter gets an investor meeting.
8 to 9 pm: Networking at the Bar area.
Refund Policy: Credit may be provided for a future event at the discretion of the organizer
Any questions please write to : startups@pitchglobal.com
Instructions:
Step 1: Please email us a one page Executive Summary plus a link to your Linkedin profile with your contact info which we will circulate to our investors. We also recommend bringing printed copies of your executive summary and circulating it to all the investors.
Step 2: We will allocate you a 8 minutes slot between 6.25 pm and 7.45 PM . We recommend you to leave adequate time for Q&A so best is to keep the pitch to under 5 mins and the rest for Q&A.
Step 3: You will be allocated a 12 mins one on one meeting with an investor between 7.45 pm to 8 pm though we expect that to continue in the Networking portion after 8 pm as well.
Step 4: We will mention your company's name and info in our mailing lists which is read by thousands of investors and Mentors. All the investors & Mentors in these lists will receive your contacts and we hope that those interested will get in touch with you directly.
Note: The EIR's and Board Members of Pitch Global are running investor events with some of the biggest names in Silicon Valley for over a decade like in this video https://youtu.be/Kmd2cJvirEQ , so we understand how to maximize the value to entrepreneurs.
Refund Policy: Credit may be provided for a future event at the discretion of the organizer
Any questions please write to : startups@pitchglobal.com