Description
Presenting under pressure is challenging and stressful for many of us, whether it's your first time in front of a corporate buyer for that big contract, or pitching for essential angel investment in your business. Join us for an evening of practical learning, exercises and tips that you can immediately apply to your pitches. You'll not only be able to ensure what comes out of your mouth hits the buying or investing sweet spots but how to control your non-verbal communication and body language.
Stand up and be counted!! Nothing better than having a practice session in front of your peers and our experienced business investor panel. After learning from our amazing guest speakers, three businesses will have the opportunity to present live for five minutes and get immediate feedback from our panel. A prize and a free pitch coaching session for the best and bravest!
WHO IS IT FOR?
Any business who needs to improve their presentation skills in high pressure situations, such as to big potential clients and investors. The objective of the evening is to understand the main principles for successful presenting, learn really effective techniques, and and have the chance to practice.
AGENDA
6:15 Welcome/intro of why
6:30 Metaspeech - interactive workshop on winning body language and presentation techniques
7:00 Berkeley Harris - workshop on must have content and how to organise your presentation
7:30 Welcome of Angel Investors and 3 business presentations based on draw of cards - 5 minutes each plus Q&A - audience vote and winner anounced
8pm Close and networking with nibbles and drinks
ANGELS
BEV HURLEY, CBE
Bev is a successful entrepreneur, Angel Investor and Non-executive Director. She has started, grown and exited from several businesses, led a management buy-out, and is currently CEO of the YTKO Group.
She has significant non-executive and Chair experience across the private and public sector, and invests mainly in tech and food and drink businesses.

Bev is a keen apres-skier, has one daughter, and lives in London.

JAMES DUEZ
James is a serial entrepreneur, Angel Investor and Non-executive Director. He has co-founded and exited a number of successful disruptive tech businesses over the past 20 years servicing global companies and governments.

He currently chairs two highly disruptive start-ups, both of which aim to create or shift existing technology eco-systems, one in optical supercomputing and another in artificial intelligence.

James is a complete jazz freak, has four children and lives in Norfolk.
LUDO CHAPMAN
Ludo has started businesses, run businesses, consulted with and invested in them. His passion is developing robust business models that support strong value propositions and helping people to make successes of these, taking them through the necessary steps of customer testing, business planning, fund raising, channel development and growth.
He works with the Judge Business School as a mentor and is currently working with a Cambridge start up helping them to commercialise their wearable technology.
Ludo loves exploring the north coast of Norfolk (and its pubs!), has four children and lives just south of Cambridge.
SPEAKERS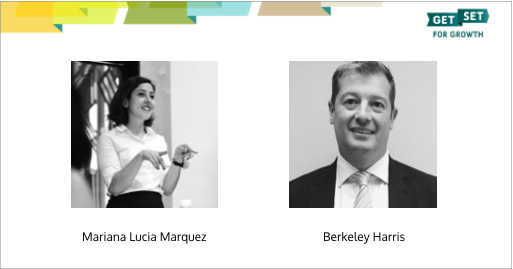 METASPEECH
Mariana and Emma, co-founders of Metaspeech, are Choreographers and Pitch coaches in Residence at Wayra, Telefonica's Accelerator. They delivered DemoDay and Pitch training to entrepreneurship programmes such as Seedcamp, Google Entrepreneurs, UCL Msc, Accelerator London at The Met University, Spark (Design Council) and Cass Business School. Their innovative workshop "Embodied Confidence", has been delivered to the likes of Techweek and Google in New York.
Last year, Metaspeech's clients raised a combined £12M, got investment from the Dragon's Den, gave talks at Tedx, Digital Shoreditch, Trendwatching, and more!
BERKELEY HARRIS
Berkeley Harris is the Managing Director of Sandler. A previous Sales Director and Board Director of national organisations. Berkeley works with established companies challenging their Strategies, Structure of processes, Skill set of Sales Developers and Sales Managers and the on-boarding of the right people. An energetic approach to help companies truly achieve their goals.
ACCESSABILITY
If you would require special assistance in the event of an emergency for any reason, please let us know so we can make any necessary arrangements by calling us on 0800 121 4458 or emailing london@getsetforgrowth.com.
Please be advised that while the event is free of charge, we will ask you to fill in a simple registration form and session feedback form. GetSet for Growth is a fully funded program set up to support East London entrepreneurs and this paperwork enables us to track our progress, measure our impact and continue providing you free services.
Registered participants based in Hackney, Islington, Newham, Tower Hamlets and Waltham Forest are also eligible for free marketing, business or financial support from our advisor team.
This event is supported by WeWork:
WeWork is the platform for creators. We provide the space, community and services you need to create your life's work. To learn more send an email to joinuslondon@wework.com or call 0203 695 4926.