Description
Come to the Pitch Perfect, Startup Coaching Event
February 25, 6:00 pm to 9:00 pm
The Batchery
2036 Bancroft Way
Berkeley, CA 94704, USA
No matter whether you are looking for investors, partners, vendors, or employees - you need to know how to pitch your business.
Now's your chance to pitch to our panel of experienced angel investors and startup executives. You will have 5 minutes to make your pitch, plus time to respond to Q&A, and get feedback from the panel.
We only have 9 slots available for entrepreneurs who want to pitch. If you want to pitch, send your pitch deck to pitch@teambatchery.com. If you are selected, you will receive a "Confirmed to Pitch" email.

Who should attend? Entrepreneurs who want to:
practice their pitches in a low-risk setting

learn by watching other pitches

get real feedback from experienced angel investors
This event is open to investors, students, and entrepreneurs who want to watch and learn. We will collect $10 at the door to cover pizza and refreshments.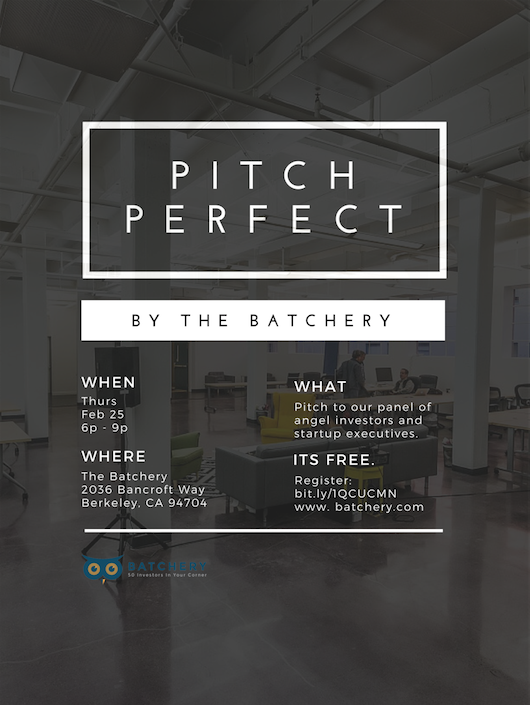 Organizer of Pitch Perfect, Entrepreneur Practice & Coaching Event
The Batchery is a Berkeley-based global incubator for seed stage startups poised for rapid growth.
We are founded by a community of veteran Investor-Advisors ready to provide you with ideas, insights, and networks.
The primary focus of our Incubator program is to offer just-in-time mentoring to help your startup succeed, and reenforce that mentorship through our Deep Dive program. We are all experienced business people, with successful track records of leading, advising, and investing in startups across many industries and different functional areas. We share our practical advice, hands-on problem solving, and extensive networks with founders to help them reach their next milestones. Our networks include customers, partners, potential employees, service providers, and investors.
Our Berkeley office is a short walk from Downtown Berkeley BART. We host pitch events, brown bag discussions, and other sessions to benefit our startup community.