Pitch Perfect – Communicating with Investors Before AND After Funding
Communicating with investors before AND after funding is both an art and science. Learn best strategies at this exciting event!
About this event
Join us from 12pm-1pm Eastern Time on Wednesday, December 16th for a live event with Q&A. This free webinar is brought to you by the Society of Physician Entrepreneurs and the George Washington University Technology Commercialization Office.
Moderators:
1. Jeffrey Hausfeld, M.D., M.B.A, F.A.C.S. - Chairman of the Board and Chief Medical Officer at BioFactura, Inc., Chairman and Co-Founder SoPE
Dr. Jeffrey Hausfeld has served on the national board and committees of specialty medical societies since he began his practice in Otolaryngology/Facial Plastic Surgery in 1982. He is an Associate Clinical Professor of Surgery at George Washington University School of Health Sciences and an alumnus of the Yale University School of Medicine. Dr. Hausfeld is widely published in the medical literature, is the pioneer of innovative laser surgery techniques, is the author of a lay oriented medical book on snoring and sleep apnea, and has appeared on numerous local and national television and radio shows as a medical expert. He has also served as a health care consultant, spokesperson, and executive coach for multi-national pharmaceutical companies, health care firms, as well as the U.S. military. Dr. Hausfeld stepped down from his clinical duties after receiving a Masters in Business Administration from Johns Hopkins University. Dr. Hausfeld is presently developing assisted living facilities specializing in Alzheimer's and dementia care. He serves as a consultant to several healthcare/life science startups in diagnostics, devices, biotech and Health IT. He also serves on the Investment Advisory Board of the Center for Innovation Technology's Life Science Gap Fund. The fund supports promising healthcare and life sciences ventures in the Commonwealth of Virginia. Dr. Hausfeld is the Chairman and Founder of the Society of Physician Entrepreneurs, a global network focused on educating healthcare and life science professionals in Bioentrepreneurship and Innovation. Dr. Hausfeld is orchestrating the Series C Financing of BioFactura and acted as the lead investor in previous rounds. He serves as Chairman of the Board of BioFactura as well as their Chief Medical Officer as the company develops its Biosimilar platform as well as its novel Bio-defense therapeutics.
2. Rania Nasis, MD, MBA - Director, Society of Physician Entrepreneurs (SoPE) and New York Tristate Chapter Co-Leader
Rania is a physician entrepreneur and seasoned operator with a passion for building companies to address unmet needs in healthcare. She is the founder of Starlings, an advisory firm that works with early stage healthcare startups on strategy, operations and product-market fit. She is also a Director of the Society of Physician Entrepreneurs (SoPE), a non-profit global biomedical and healthcare innovation network. She has a wide breath and depth of experience across a multitude of areas in healthcare, including digital health, aging tech, biotech, life sciences, devices, and diagnostics. She has previously held senior leadership roles within multiple healthcare startups.
She received her MD from New Jersey Medical School, MBA from the Paul Merage School of Business at University of California at Irvine and BS from Drexel University.
3. Brian Coblitz, Ph.D - Sr. Licensing Manager, GW Technology Commercialization Office
Brian Coblitz covers the life sciences Intellectual Property portfolio at GW. Brian is a registered U.S. Patent Agent and comes from a marketing internship at the National Institutes of Health (NIH), Office of Technology Transfer. At the NIH, Brian applied his broad biological sciences background to perform targeted marketing of innovative technologies. Prior to starting his career in technology commercialization, Brian completed his postdoctoral studies on the sense of touch with Marty Chalfie at Columbia University.
Brian's Ph.D. and B.S. degrees came from the Johns Hopkins University School of Medicine and Tulane University, respectively.
Speakers:
1. Jonathan Shamay Draluck - Associate General Counsel at Cognizant
Jonathan is associate general counsel of Cognizant, a Fortune 200 IT firm whose clientele includes the top 30 pharmaceutical, 9 of the top 10 biotech, and 12 of the top 15 medical device companies. He supports managed Cloud services for precision medicine, high-throughput correlation analyses, AI and other applications. He previously negotiated material transfer, sponsored research, clinical trials, patent licensing, and M&A for global pharma and life sciences start-ups in Israel and the U.S. He has been an investor pitch coach and start-up competition judge for 8 years and every day in the news proudly sees the medical innovations of entrepreneurs he mentored.
2. John D. Bradley - Managing Director at Torreya
John is a Managing Director at Torreya, working with the firm's financing and M&A businesses. John has a vast network of relationships in the life sciences industry, as well as with family offices and high net worth individuals worldwide. An expert in branded pharmaceuticals and drug delivery, he has raised over $500 million in public and private capital for pharmaceutical, insurance, and technology companies. He has over 40 years of corporate finance experience as an executive within both pharmaceutical companies and investment banks.
3. Margaret Watts Romney - Leadership Communication Coach
Perpetual student and leadership speaking coach Margaret Watts Romney works with speaker-leaders across the U.S and internationally. She is known for coaching over 100 TEDx speakers and mentoring over a thousand performers. From her work in the Master of Strategic Communication program at Westminster College, and training from the NeuroLeadership Institute, she founded The Speakership Club: a resource for growth-minded speaker-leaders to develop their speaking as they share their gifts and guide their community towards their vision.
If you have any questions, please reach out to info@sopenet.org.
Hosts: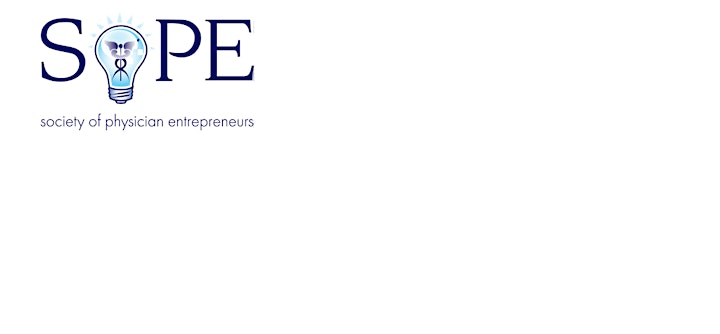 Organizer of Pitch Perfect – Communicating with Investors Before AND After Funding
The Society of Physician Entrepreneurs (SoPE) is a global biomedical and healthcare innovation network with membership open to all healthcare professionals, entrepreneurs and industry stakeholders. SoPE was founded in 2011 by three physicians who shared a common vision - to empower physicians and other professionals to innovate healthcare through entrepreneurship.
SoPE continues to gain momentum with chapters across the United States, Turkey, China and the United Arab Emirates, as well as industry partners who directly support our members' efforts. Members include doctors, nurses, dentists, healthcare entrepreneurs, investors, engineers, academics, IT professionals and industry representatives. What brings them together? Our community members share a common focus - working at the crossroads of innovation and commercialization to make a difference in healthcare.
SoPE provides a platform for members to accelerate and catalyze innovation, as well as a separate supporting 501(c)(3) tax-exempt Foundation for scholarship and philanthropic endeavors to advance healthcare.