Improve your pitch at this casual and informative workshop. Work alongside entrepreneurs as well as business and communications coaches.
About this event
This workshop is designed for those participating in Start Peninsula. After all the work you put into your startup, your ultimate success often depends on the business pitch. Informal 'elevator pitches' are the way to sell your business and create relationships that secure future resources. If you want to improve your business pitch, we are here to help!
You will learn:
The essential elements of every good pitch
How to get people's attention and keep it
How to start, deliver and articulate your pitch with confidence
In addition, these training workshops are perfect for those interested in our Micro Pitch events, where you pitch your business idea for a chance to win $500 and qualify for our main event in November to win $5,000!
Online Pitch Perfect Workshops are FREE! Contact start@startpeninsula.com for more information.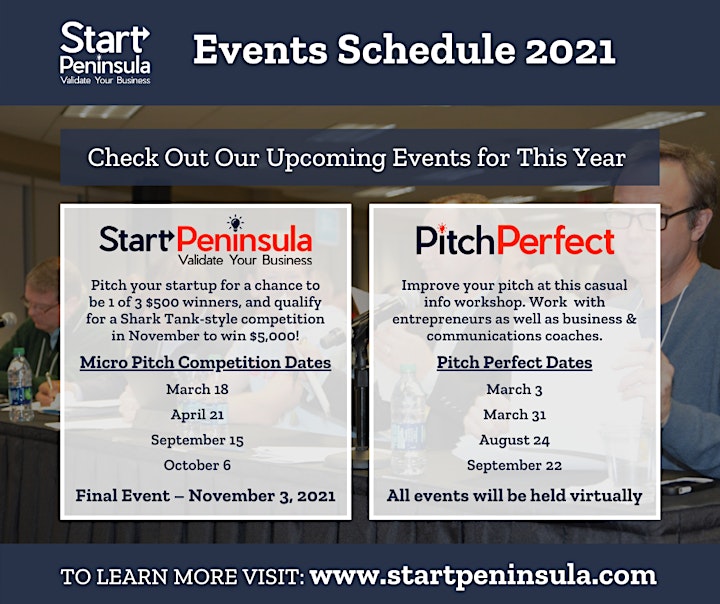 Organizer of Pitch Perfect #3
Start Peninsula is dedicated to nourishing ideas into small business that are prepared to change the world. We provide our startups with the introductions, mentorship, consulting services and access to resources they need to position themselves as they implement their business plan and work towards raising capital. Our program focuses on what the entrepreneur needs to learn or become in order to be successful providing a space to collaborate is secondary.
Start Peninsula is funded and made possible by the Economic Development Authorities of Hampton, Newport News, James City County, York County, Williamsburg and Poquoson.