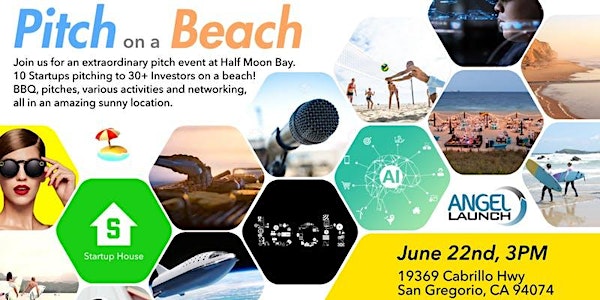 Pitch on the Beach
When and where
Location
Half Moon Bay 19369 Cabrillo Highway Half Moon Bay, CA 94074
Description
This event is coproduced by Angel Launch and Startup House. This is the first bay area tech event pitching on the beach with a huge party, plenty of delicious food and drinks, networking, games and a bonfire. You can even bring your partner, spouse, friends or family members.
Are you a tech startup seeking seed, early or mid stage funding from angels for software, hardware, apps, devices or platforms?

Are you an investor or corporate partner looking to meet other investors to share ideas or raise funds for your next round, and meet promising startups and other investors? by Angel Launch, leading producer in Silicon Valley of tech events for startups and investors in partnership with Tech Code. For more info call: Angel Launch 310 621-6850 or Info@angellaunch.com

We brings together startups, investors and corporate partners for lavish food and high energy networking.
Join us for a summer beach party and pitch session that will be a night to remember.

For more information on sponsorship packages and to discuss becoming a sponsor, please contact info@angellaunch.com

And whether you're an investor, entrepreneur, dreamer or tech enthusiast, we want to see you at the event, so we can give you free drinks, appetizers and hear your thoughts. Come one, come all. It's sure to be a night to remember.



INVESTORS REGISTERED:

AwakeVC Founding Partner Amit Rathore

Bay Angels Managing partner Jordan Wahbeh

Einstein Ventures Managing Partner Mag Hidir

FirstInternational, Investor Svet Sedov

Glocal Partners Managing Partner Alex Shevelenko

Happiness Ventures Managing Partner Ajay Ramachandran

Heuristic Capital Partner Ren Du

MediaTek Ventures Investment Director Walter Liu

MIT Alumni Angels Officer Jenny Liu

Paulson Investment Vice President Roy Liang

Reddy & Co CEO Kevin Reddy

Segment Product Manager Sudhee Chilappagari

Silicon Valley Venture Growth Partners Partner Michael Louis

Tri-Valley Ventures Investor Raj Baronia

U First Capital Entrepreneurial Ambassador Brandon Apparcel

VU Venture Partners Investor Noreen Brar


INVESTORS APPLY FOR COMP TICKETS
Our events are free to accredited investors (angels, VCs, corporate or strategic) once we verify your status subject to our discretion. Send email to info@angellaunch.com for a comp code. You must send us link to Angel List or Linked In so we can verify you are active accredited investor. We invite investors to give introductions before dinner.
Types of Tickets:
VIP $25: Attend program, dinner and drinks, networking

Comp Investor: Must be verified accredited or corporate investor subject to our approval. This offer only for investors but you can purchase tickets for guests or family members.

MEET INVESTORS SEEKING STARTUPS IN THESE MARKETS:

SOFTWARE and SAAS
Consumer and Enterprise Apps, Platforms, AI, Machine Learning, Blockchain, Entertainment, Big Data, Smart Cities, Mobile, Security

HARDWARE
Internet of Things, Hardware, Chips, Robotics, Sensors, Devices, Core Technologies

HEALTHTECH
Biotech, life science, ag tech, medical devices, food tech, cannabis, health care services and operations
PROGRAM:
3:00-4:30 Registration, Networking, Snacks

5:30- 9:00 Food, Drinks Networking Games, Bonfire
_______________________________________