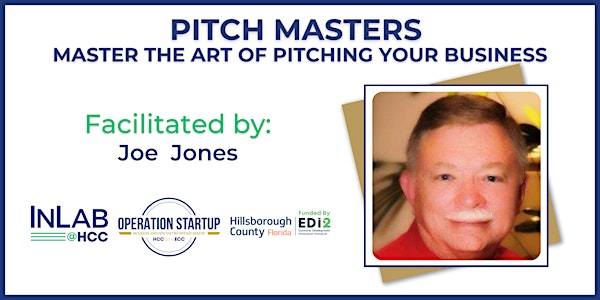 Pitch Masters - Master the Art of Pitching Your Business
The best ideas are often overlooked, but the best presentation gets the attention of investors and clients.
About this event
Are you ready to take your business venture to the next level?
Learn how to pitch your business to anyone, get funded and gain clients! The best business plan is useless unless it can be turned into a compelling presentation for investors and customers. The Pitch Masters' program helps you develop and practice that presentation, plus develop a pitch deck that inspires action!
Pitch Masters is led by award winning professional speaker and sales trainer Joe Jones. Joe is the Founder/Owner of Transition Masters, a not for profit organization that teaches people to confidently and credibly present themselves to organizations during job search. He was a mentor during Operation Startup at the WAVE and regularly attends One Million Cups.
Presented by the InLab at Hillsborough Community College
PLEASE NOTE, this workshop will be delivered virtually through Zoom video, as part of the Hillsborough Community College InLab@HCC.
Due to security concerns we will send a Zoom link 24 hours prior and again one hour prior to the workshop start date and time. Please login to Zoom five minutes prior to the event start time. You will be placed into a virtual "Waiting Room" until the event begins.