Pitch Global Sharktank Style+private feedback@The Vault, SF

Friday, April 19, 2019 from 5:30 PM to 8:30 PM (PDT)
Event Details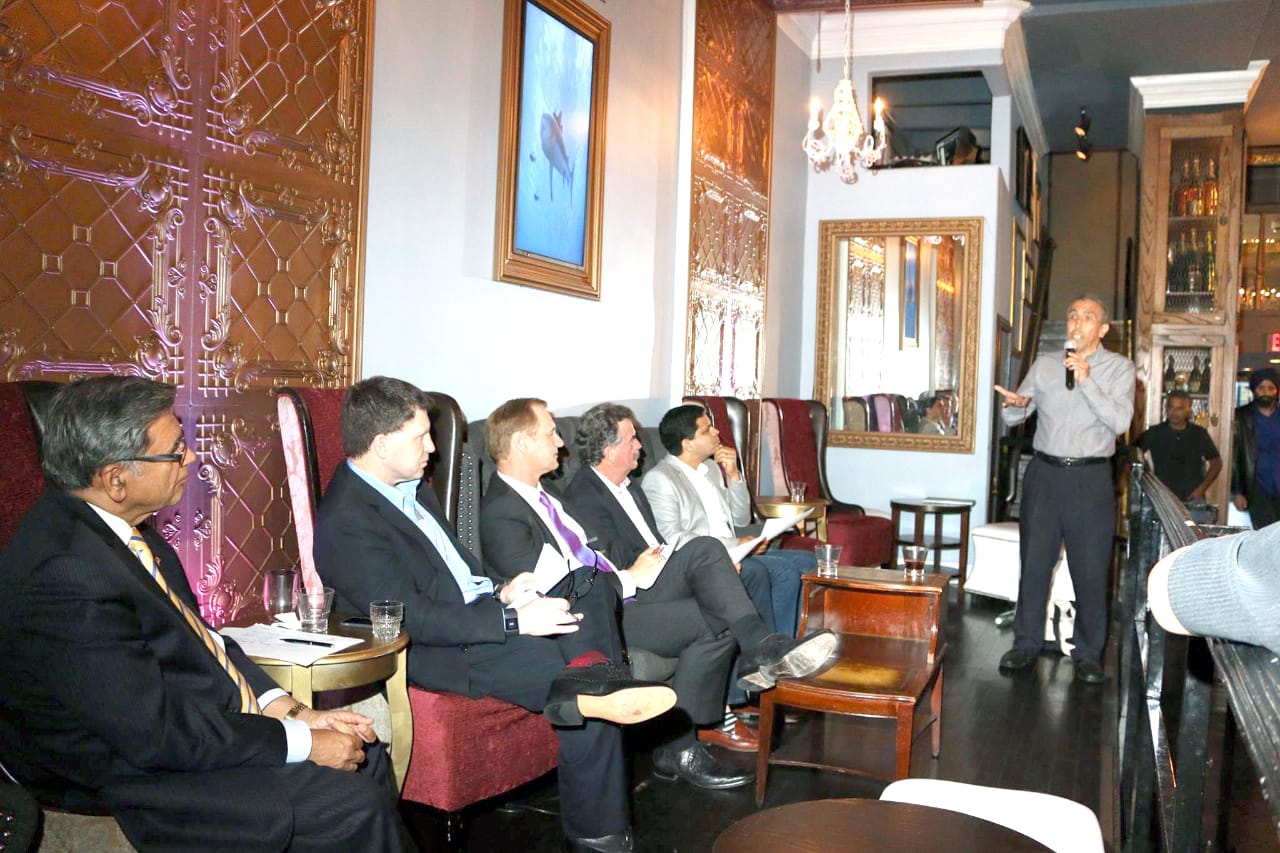 Pictured above from a prior Pitch Globally event : Silicon Valley legends (from left), Vish Mishra (Clearstone VC and longterm President of TIECON); Roger Royse, Owner of large Tech Law Firm, Royse Law; Bill Sautter (Galaxy VC and first US employee of Business Objects which SAP acquired for $ 8 b), Roger King (Founder Bay Angels).
Watch experts speak on Silicon Valley Mindset :
Welcome to Pitch Globally Sharktank Style -- Silicon Valley's most connected pitch and social event where you connect with VCs, techies, mentors, and entrepreneurs. At a recent event, we had team from Alibaba Ventures walk in the door looking for startups to invest – is that you?
Join us at 5.30 pm on Friday the 19th Of April 2019, at The Vault, SF(4 blocks from Embarcadero Bart) and Pitch to a Panel of Silicon Valley Super-connectors, Network with interesting people and meet Founders, VC's, Techies, Mentors and other friends. Watch one of our recent videos where leading Tech celebrities and investors are being interviewed at our event. 
The following are some of our recent panelists: Vish Mishra, Clearstone VC (former President of TIE); Roger Royse, owner large Tech Law firm(Royse Law); Robert Winter (40 exits); Jim Simmons (Simmons Goodspeed Ventures); Bill Sautter, Galaxy Ventures; Deepak Gupta; Bessemer VC & Accelerator Mentor of 500 Startups and Alchemist; Roger King, Bay Angels; President Emeritus of Sand Hill Angels; representatives from DNA Partners; Combustion Ventures; Draper; DFJ Nexus, etc.
Some of them will be on the Panel on this month as well.
This is a recurring event every 4th Friday at The Vault,SF. So secure a spot at SF Bay Area's most well connected Pitch & Networking event!!
Our Pitch tickets get sold out in advance. Any questions, feel free to email startups@pitchglobally.com
Agenda:
5.30-6.30 pm: Registration, Demo & Networking.

6.30-7.30 pm: Startups Pitch to the Panel; brief Q&A after every pitch. 

7.30-8 pm: VC's give private, one on one, feedback to startups while every person gets a chance to introduce themselves to the audience.

8 -8:30 pm: More Networking.

8.30 pm onwards: After-Party at nearby Barbarossa Lounge.
Our Refund Policy: Credit may be applied to a future event at the discretion of the Organizer. 

This is a Pitch Globally Event . Find us on:
www.instagram.com/pitchglobally
California Scenes shared with you :
Have questions about Pitch Global Sharktank Style+private feedback@The Vault, SF?
Contact PITCH GLOBAL
When & Where

The VAULT
415 Jackson Street
San Francisco, CA 94111


Friday, April 19, 2019 from 5:30 PM to 8:30 PM (PDT)
Add to my calendar
Organiser
Sign up to Pitch, Sponsor or Network with  Pitch Global Network of Networks which runs sharktank style events in Silicon Valley(every week), LA, London and other global entrepreneurial hotspots. The number one factor which increases the chance of funding is to get in front of as many diverse sets of investors as possible and since Pitch Global not only promotes our own events but also those of other prominent silicon valley groups like Keiretsu Forum, GTS, Pitch Force, Hardware Massive, US Angels, City Summit celebrity network and many others—through us you can meet investors from all these other groups also. The following video which has footage from 2 investor events we ran (one ours and one Partner) where you see luminairies like Vish Mishra (former long term president of TIECON), Dmitry Grishin ( Grishin Robotics VC; co-founder of Yuri Milner, billionaire behind Facebook's funding), Matthew Le Merle,Managing Partner of Keiretsu Capital,  Laird Cagan(Cagan McAfee Capital), Steve Jurvetson (fmr DFJ, Future Cap), Head of State, Co-founder of SV's 1st VC Fund and many others. https://youtu.be/Kmd2cJvirEQ
Tens of thousands of global entrepreneurs have connected with investors for almost a decade in Silicon Valley(including events hosted by our predecessor organization Startup Mind,founded 2009)---we are now seeing funding offers in other markets like LA from funds like Plug& Play, Nex3/Sway Ventures, BLD Capital etc. https://youtu.be/wBpvGUCunn4
We are also passionate about entrepreneurial education and organize summits &bootcamps like Mentoring& Mindset for Funding & Innovation https://youtu.be/OqYIMdC2mi0 , How to ace the Y Combinator system etc
PITCH GLOBAL Management team:
KC Wisdom, Founder PITCH GLOBAL &MINDSETCAP INNOVATION SUMMIT. Author "Grow Your Mindset" and co-author of The First Mile( John Wiley), on behalf of TIE, largest network of entrepreneurs in the world.
Axel Tillmann: CEO of PITCH GLOBAL INNOVATION. Former US CEO of $ 1 b fund of funds.
Any questions: startups@Pitchglobal.com