Description
About Pitch Club
Pitch club is a unique mentoring and funding program hosted across the state of Michigan in cities such as: Detroit, Ann Arbor, Lansing, and Grand Rapids. Pitch Club has ongoing monthly events that provide entrepreneurs the opportunity to learn from seasoned entrepreneurs and investors. The events are meant to educate, network, inspire and provide valuable experiences for being investable. As part of the events, 3 lucky entrepreneurs will receive the opportunity to practice their pitch and discuss business plan with funding experts, giving them a better understanding the mindset of an investor. Presenters will be given milestones to complete. In addition to guidance from our host and guest experts, attendees will be given a survey to provide additional feedback to the presenters. Pitch club will also feature a guest keynote who can speak on topics related to starting a company, technology, and opportunities for entrepreneurs.
Pitch Club events feature 3 startup presentations, a pool of judges, and keynote speaker. You can find more information about Pitch Club by visiting our website: www.PitchClubMI.com

Deadline for startups to apply is Sunday September 1, 2019 : APPLICATION
Sponsors




Judges
Jim Tenzillo Director Invest Michigan
Shawn Planko Engineering Manager Expedia
Eric Davis Technology Investment Analyst Automation Alley
Millie Chu Vice President of Global Entrepreneurship and STEM Talent
Vineet Katial Managing Partner Sky7 Ventures
Danny Ellis CEO SkySpecs
Marie Klopf, President, iSupplyCon
Carolyn Cassin, Co-Founder & General Partner, Belle Impact Fund
Agenda
5:00pm – 5:30pm: Registration and Networking

5:30pm – 5:45pm: Opening Remarks

5:45pm – 6:45pm: Company Presentations - 3 Companies

6:50pm – 7:10pm: Keynote

7:10pm – 7:15pm: Q&A with Audience

7:15pm – 7:45pm: Networking


Who should attend?
Investors and corporate executives looking to network, hire talent, get inspired or are involved in M&A and/or business development.
Accredited investors looking for investment or co-investment opportunities.
The entrepreneur, who just had a flash of a billion dollar idea-looking for an investment.
Startups & early stage technology companies developing a viable business model.
Social entrepreneurs looking to disrupt and change the future.
Startups looking to connect with mentors and educate themselves on all aspects of launching a business
Startups looking to create a profitable business model.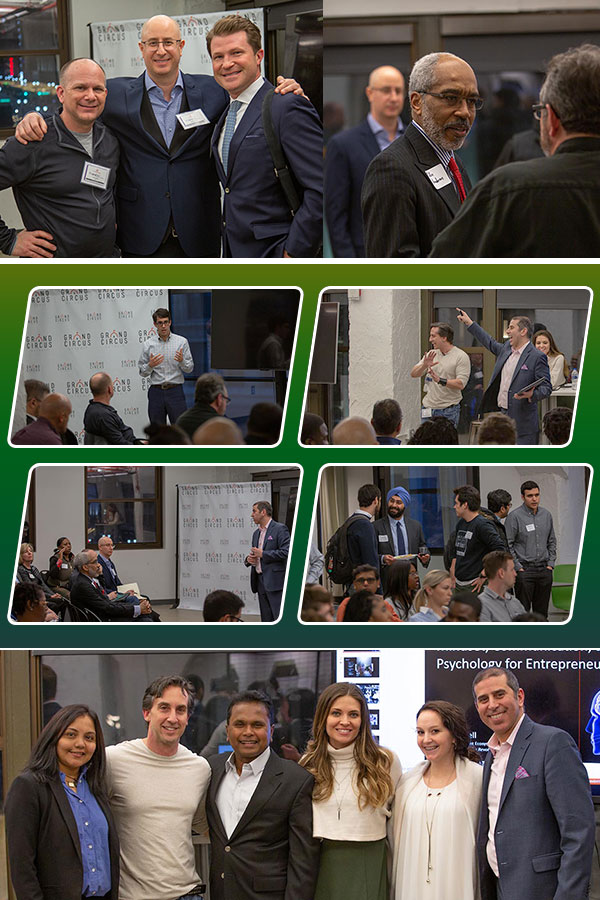 TESTIMONIALS
The mentors were very knowledgeable and helpful. It's helpful to have some fresh eyes looking at the materials. Great group of people, fun, good networking. - AkkeNeel Talsma, Founder Melius Outcomes
It was a great opportunity and our team had a lot of fun there, making us all realize that this is what it's all about, having fun, making connections, etc. It is a great event you put on and we are very appreciative." - Michael Darrow, Founder Herculeze
We have doubled our sales, added double the new events, and won the Pitch WCC event! - Sean Carroll, Founder Enbiologics
We've got a lot more customers since we were at Pitch Club! Thanks again for the great opportunity, it really connected us with some important people. - Christina York, Founder Spellbound
We've recruited a Michigan native to join our team, who I met at the pitch event. Yes, the Michigan native I mentioned is now my wife. We have the organizers of Pitch Club to thank! - Robert Sher, Founder Qbister
I pitched at the pitch club event and it was very valuable - in case folks ask. - Rachna Govani, Founder Foodstand



COME BACK AS MORE DETAILS DEVELOP!