PitchBlack is an exercise in cooperative economics funding local creativity through crowd-funded micro-grants that impact the collective.
About this event
PitchBlack Columbus is brought o you by: Artfluential & Maroon Arts Group as a part of the Deliver Black Dreams initiative
Special thanks to Columbus SOUP for helping kickstart this initiative.
About PitchBlack Columbus
PitchBlack is a micro-granting gathering space designed for the supporting and celebration of creative projects that impact local communities.
PitchBlack is an excercise cooperative economics by bringing the community together in the democratic practice of funding local creativity through crowd-funded micro-grants that impact the community in radically creative ways.
Apply to Pitch
Visit: www.PitchBlackColumbus.com DEADLINE TO APPLY FOR A SPOT TO PITCH JUNE 12, 2021
Please note: Applying does not guarantee you will receive a spot to pitch. There will only be 5 pitchers selected so please provide as much information as possible in your application.
If you are selected to pitch please hold the following dates:
06/20/21 from 6pm -7pm for a virtual call.
06/27/21 from 5pm - 8pm in-person
How PitchBlack event works
01: Invest - Make an investment of $10 or more by purchasing a ticket. You can also boost your investment by making a donation toward the grant. Attend the PitchBlack event.
02: Pitch - Each presenter has exactly 5-8 minutes to share their idea with the community investors and answer 4 questions from the audience about their project. Attendees hear presentations from Four to Five community members leading projects in the Arts, Urban Agriculture, Social justice, Education, Technology & More.
03: Vote - Attendees vote on the project they feel has the most community impact. While votes are tallied attendees are able to network, share resources, enjoy music and art, take pics.
04: Build - At the end of the program, the votes are tallied and the winner goes home with the money raised by the attendee's investment to carry out their project.
05: Share - Winners will be required to come back to a future PitchBLACK to update the community on the success of their project.
THEORY OF CHANGE
PitchBLACK seeks to build creatively on the Kwanzaa principle of Ujamaa. By building a forum for radical communal exchange, empathy, and investment in order to foster communal impact.
The fourth principle of Kwanzaa is Ujamaa (Cooperative Economics) and is essentially a commitment to the practice of shared social wealth and the work necessary to achieve it. Ujamaa literally means familyhood and suggests a sharing of work and wealth in the manner of a family. It grows out of the fundamental communal concept that social wealth belongs to the masses of people who created it and that no one should have such an unequal amount of wealth that it gives him/her the capacity to impose unequal, exploitative, or oppressive relations on others.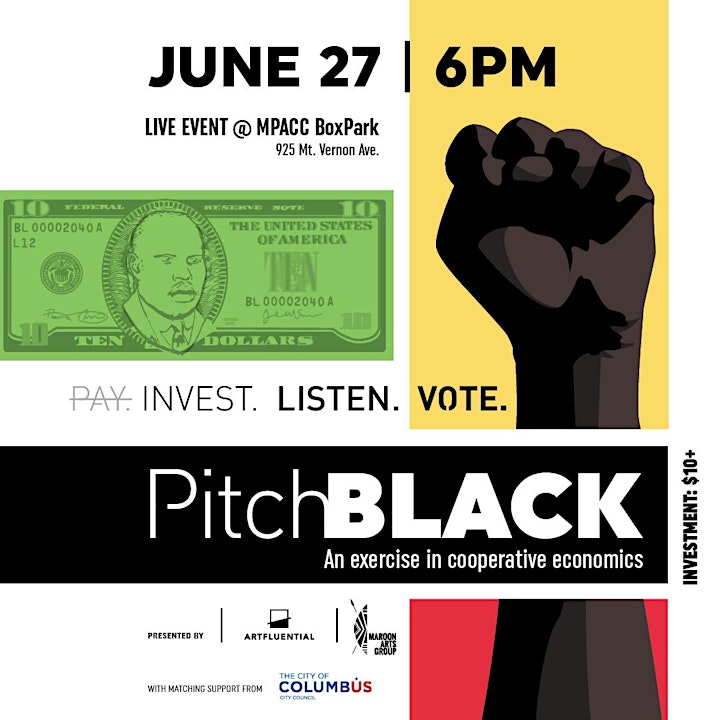 Organizer of Pitch Black Columbus