Pitch and Learn engages and educates entrepreneurs on the art of pitching to investors.
About this Event
Pitch and Learn with Investors
Fostering the Startup Ecosystem
Event Details:
Pitch and Learn is meant to engage and educate entrepreneurs on the art of pitching to investors. Every pitching entrepreneur will have the opportunity to pitch their business, receive feedback from seasoned investors and then pitch again using investors' input. The event is open to anyone to attend however, there are only 20 1-minute pitch tickets and only 4 3-minute pitch tickets available for entrepreneurs to pitch. 1 presenter per company.
Presenters:
Pitch intimately to investors
Obtain immediate and direct feedback on the pitch
Get coached one-on-one by seasoned investors
Pitch again for a second round
Win prizes
A great way to learn and build relationships
Get your tickets today!
Date: Thursday, January 30, 2020
Time: 5:30 PM to 9:00 PM
Location:
WeWork - Bayview
100 Bayview Circle
Newport Beach, CA 92660
About Pismo Ventures:
Pismo Ventures is a venture studio focusing on startups varying in stage from pre-seed through series A. We invest resources; provide proven business strategies, implementation and execution; develop high-end software and technology solutions and facilitate funding. Our unique approach and experience help startups minimize risk and increase the likelihood of success.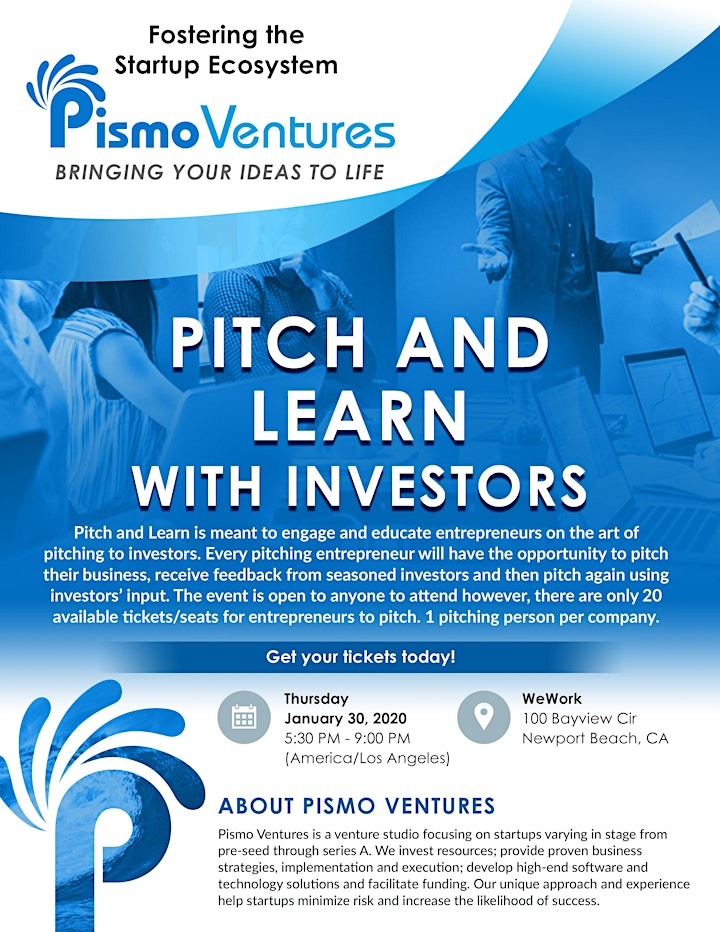 Thank you to our sponsors!