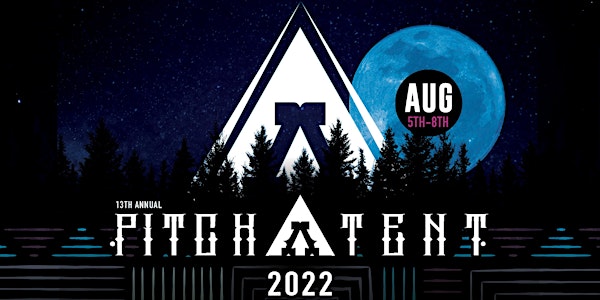 Pitch A Tent 2022
America's Longest Running Forest Festival is Back - Music, Art, Yoga, Nature, High Elevation, Comedy, Lasers and Friends
When and where
Location
Playa Ponderosa 4535 Forest Service 9410 rd Flagstaff, AZ 00000
About this event
PHASE 2 LINEUP:
Gardenstate (AZ debut), Pig&Dan, The Sponges, Mob Tactics, Moody, Ocean Roulette, Drew Dapps, Ekonovah, Noises, Owie, S-Doobie, 2Soon, Cheechmo, Danny Fathom, Intrinzic, LuJan, Kip Killagain, DJ Manifesto (live), Rolando Hodar.
Abso, Ascension (live), Aspentz, Atom, Casey Shea, Christian Scott, Chklz, Corvino, Dad Jokes, Dalle, Dangerhouse, Demz, Dirty Nabz, Disco Zombie, Discopennylan, District 13, Dylan Heckert, Elwer, Fairy Dvst, Fatal Error, Floyd & Roth, Frank Terry, Ghost Effect, GTJ, Hydra, Ivan Purple, Jur, L9v, Lionel Ray, Marcbaca, Muffy, Nathan Strohkirch, Nood, R3d, Residuo, Rizkee, Robyn Lee, Samwell, Sean.C, Sean Solomon, Sens1, Seppi, Sergik, sNeeks, Spacemen, Tavoo, Track Suites, Tyler Miesch, Veloces, Zaptek.
3 Stages, games, activities, live performances, yoga, workshops, health & wellness, vendors, ogranic farm-to-table food, live art, painting, cornhole tournament and more.
B.Y.O.E. (Bring Your Own Everything)
-Camping gear-Comfortable sleeping setup-Cool and Warm clothes-Extra layers-Comfortable walking/hiking shoes that can get wet and muddy-Food & EXTRA food (this is often under prepared for many)-Toilet paper-Water and EXTRA water-Alcohol (If you partake)-Costumes-Ice-Cash for vendors, emergencies and re-entry ($5 per day for re-entry)-Lights & Glowstix (dont be be lost in the dark)-Trash Bags-A Fun & positive Attitude-Enough room to take back out erything you bring. (THERE ARE NO TRASHES ON SITE)-Drones or Cameras-Shade or shade structures-Fans or anything to keep you cool-Bio-Degradeable soap & shampoos (regural stuff damages the environment)-Towells-Hand sanitizer-Medications-Sunscreen-Bug spray-Etc.
WHAT NOT TO BRING:
-Weapons, repeat NO WEAPONS!-Amplified sound that is being used for any kind of performance -Bad vibes-Dbags -Drama-Unnecessary moop (packaging, plastic wrap, etc)-Fire works of any kind-Altars -ATV, buggy or recreational vehicles -Animals and pets (you will be turned away)-Rouge event camps -Unprepared attendees -Excessive plastic water bottles or similar wasteful product casings
This is a Rain or Shine Event and there will be no refunds for inclement weather.
By purchasing tickets you agree to not hold PItch A Tent LLC liable for any harm that may fall upon you or your property, natural or otherwise. This includes injury and/or property damage resulting from a natrual disaster, terrorist attack, animal attack, insect sting/bite, allergic reaction and/or any other incident that may occur during the event Pitch A Tent 2022.